The variety of carbohydrate found in vermicelli is rich in vitamins, minerals, fiber, and phytonutrients. Unlike processed grains, whole grains are still completely intact to their skin, thereby preserving essential vitamins and minerals. It is advised that people eat more of these complex carbs.
Vermicelli contains a negligible quantity of fat and no cholesterol. Fat is an indispensable nutrient your body exercises as a source of energy and to assimilate fat-soluble vitamins. So when making any recipe using vermicelli is the best option.
Today's recipe is perfect option for breakfast for lunchbox for kids and grownups. Vermicelli or Semiya Upma is a fresh take on a regular upma dish. It looks just like noodles and the tastes great. You add tons of vegetables not only to make it salubrious but also to add a great crunch in every bite. It is simple yet extremely palatable.
How to Make Vermicelli (Semiya) Upma
Ingredients
1 Cup Vermicelli
1 Finely chopped small onion
4-5 Finely sliced French beans
1 Finely chopped Small carrot
1 Finely chopped tomato
4 tsp cooking oil
1 tbsp butter
1/2 tsp mustard seeds
1/2 tsp cumin seeds
1 tsp split chickpeas
1/2 tsp split black gram
2 tbsp peanut
2 tbsp peas
1-2 Thin sliced green chili
2 tbsp Finely chopped coriander
Few curry leaves
1 dry red chili
1 tbsp lemon juice
1/4 tsp asafetida
1/3 tsp turmeric powder
Salt to taste
Directions
Heat a pan and add oil, once hot add vermicelli.
On a medium heat roast for about 2-3 minutes until vermicelli change its color to light golden.
Switch off the flame and take it out on a plate.
Heat the same pan, add oil and once hot add butter and let it melt.
Next add mustard seeds, cumin seeds, chana dal, urad dal, and sauté for half a minute.
Next add chopped carrots, peanuts, peas, and dry red chili and roast for less than two minutes.
Add chopped green chilies, curry leaves, asafetida, onion, and French beans again sauté 30 seconds.
Sprinkle salt to taste.
Add turmeric powder and tomatoes, and 2 and 1/4th cups of water and add salt again. Let it boil.
Add the roasted vermicelli, stir for few seconds and then cover the pan with a lid and let it cook well for 2 minutes.
Remove the lid and gently flip the contents.
If the need is, add a little water and cook again with the lid on.
Squeeze in lemon juice and add chopped coriander and mix well.
Turn off the flame; cover the pan with lid again for about a minute or two.
Remove lid; give a little mix and vermicelli upma I ready to be served!
I am sure your stomachs must be growling, and you have got to feed it. You just saw how simple the recipe is, so don your apron and hit the kitchen. Let me know your experience with the recipe and also your feedback in the comment section below!
Happy Cooking!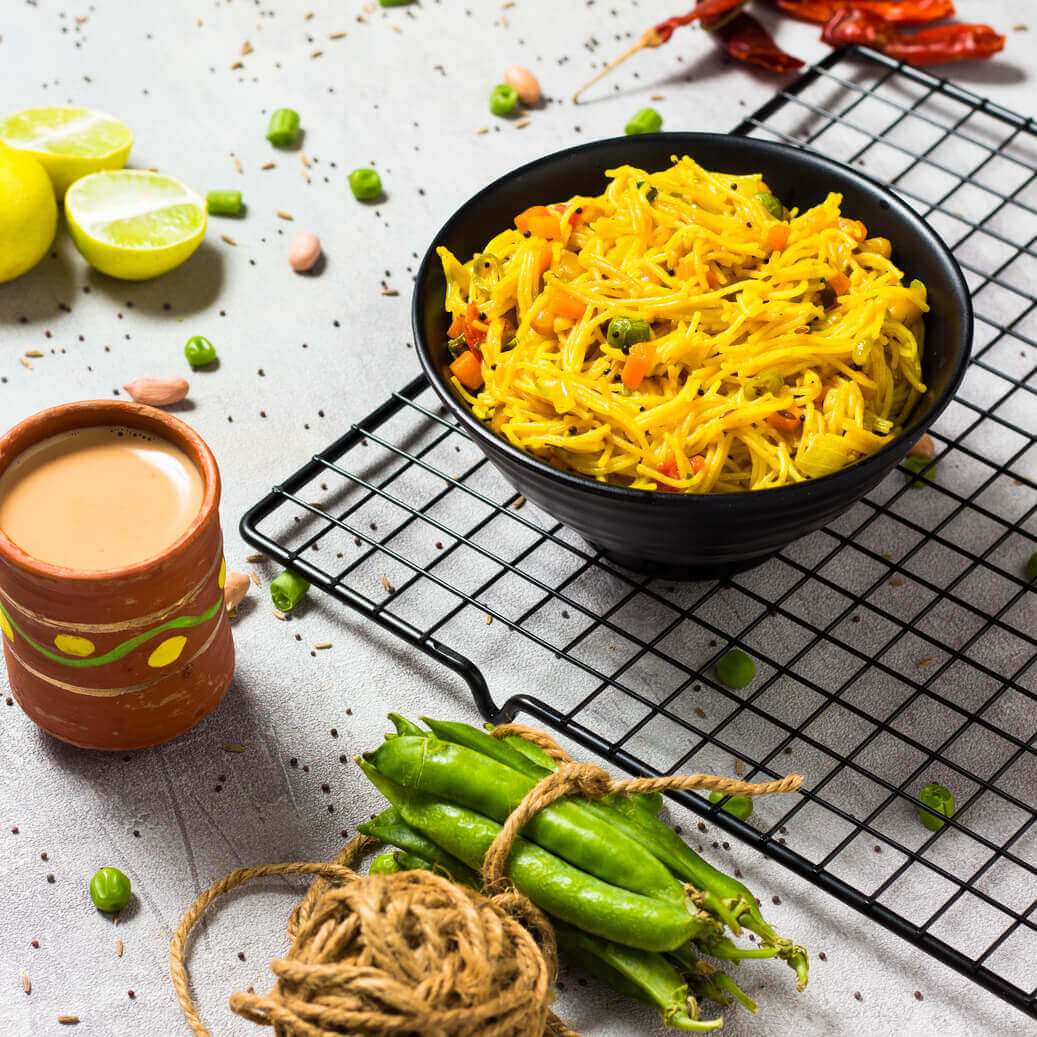 Siddhi Panchal is a food blogger at CookingwithSiddhi and food aficionado who loves to cook. Her cooking skills cover a range of Indian and international cuisines. Her aim is to enable other food enthusiasts explore their love for food by helping them cook delectable dishes from India and around the world.