Sweet corn is a must in every Indian household during damp season. Apart from its various health and nutritious benefits, sweet corn or bhutta is an extremely versatile ingredient.
You can also prepare Makai ki khees, Makai Halwa and Corn and Peas Seekh Kebab from corn to pamper your taste buds with different 'not-so-corny' dishes. Corn Cutlet is appetizing snack and even can be served as starters. This rainy season experience the goodness of sweet corn in the form of fritters or kebab as per your liking.
Follow the below steps for perfect golden brown Sweet Corn Cutlet.
Sweet Corn Cutlet Recipe and Text Recipe Below
Ingredients
2 Boiled Sweet Corn kernels
1 Medium size Roughly Chopped Capsicum
1 Medium size Roughly Chopped Onion
1 Medium size Roughly Chopped Carrot
1 Cup Chickpea flour
1 Tbsp Ginger Garlic paste
2 Tbsp Coriander
3-4 Crushed Green chili
1 Tsp Dry Mango Powder
1 Tsp Black Salt
1 Tsp Garam Masala
1 Tsp Coriander powder
1 Tsp Red chili powder
1/4 Tsp Turmeric powder
Salt to taste
Directions
In a chopper or mixer add in vegetables such as carrots, capsicum, and onion and grind them.
Next, add corn kernels and finely chop all the vegetables.
Take the finely chopped veggies into a mixing bowl.
Now add red chili powder, turmeric powder, cumin seed powder, garam masala, black salt, dry mango powder, chopped green chilies, ginger-garlic paste, chopped coriander leaves and finally give it a nice mix.
Pour in gram flour and mix well and sprinkle salt all over.
Add gram flour accordingly if you feel the mixture is a little wet.
Grease your palms with oil and take the mixture and prepare flat (tikki) shapes pieces.
Heat oil in a vessel for deep frying.
Once the oil is medium hot, gently place the cutlet into the oil.
Flip the cutlet in the oil and cook until both sides should have a light golden color.
Take them out in kitchen towel-lined plate and serve piping hot.
Your monsoon evenings are now complete with this piping hot sweet corn cutlets green chutney and of course chai! Do try this recipe and let me know your experience and share your feedback.
Happy Cooking!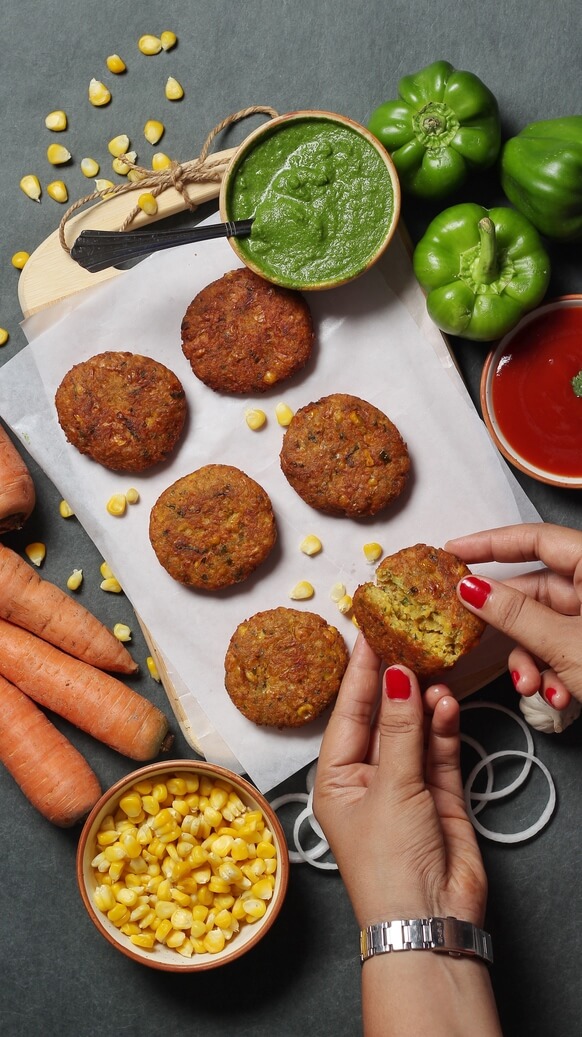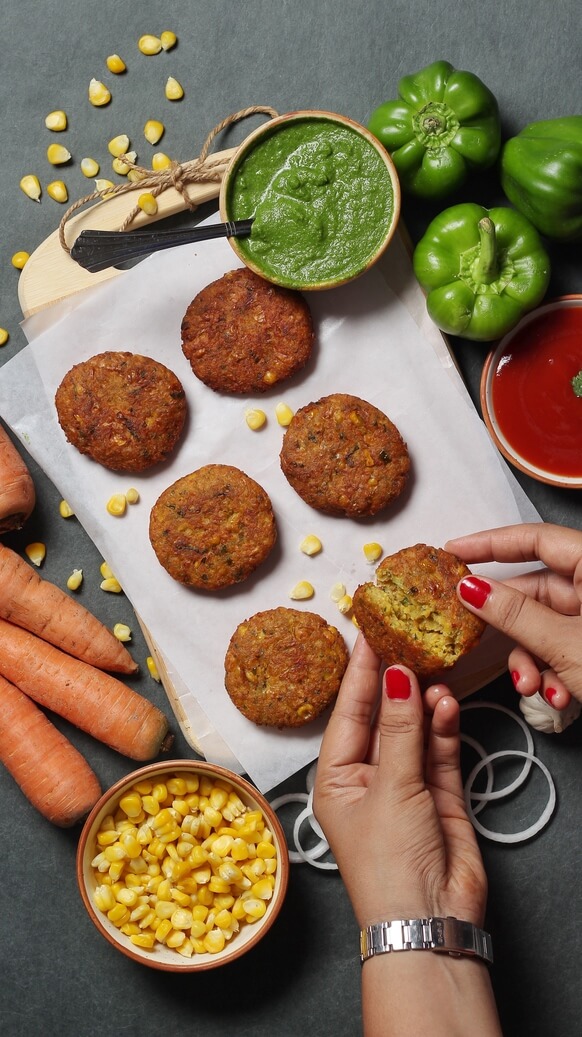 Siddhi Panchal is a food blogger at CookingwithSiddhi and food aficionado who loves to cook. Her cooking skills cover a range of Indian and international cuisines. Her aim is to enable other food enthusiasts explore their love for food by helping them cook delectable dishes from India and around the world.