We all are fans of some Onion pakoras and tea on a rainy day. Onion rings are another form of this appetizer which will be a refreshing new taste twist to your buds. Very popular drive in snack in America and Canada, I bring you a vegetarian Indian version of the same with your common shelf ingredients. To all the health conscious folks out there you can also bake these rings for the less oily version of this scrumptious snack. This snack is irresistible because of its crispy crunchy layer contrasting with sweet tender onions.
Sounds delicious, isn't it? Trust me, it tastes even better! You can try it with my cheesy dip white sauce for the taste of heaven.
Onion Rings Recipe and Text Recipe Below
Ingredients
Onion Rings from 2-3 Onion
3/4 Cup All-Purpose Flour
1/4 Cup Corn Flour
Bread Crumbs
1/4 Tsp Black Pepper Powder
1 Tsp Garlic Powder
1/2 Tsp Red Chili Powder
Salt to taste
Directions
In a large mixing bowl add all-purpose flour, cornflour, black pepper powder, red chili powder, garlic powder, salt to taste and mix all the dry ingredients.
Pour in cold water accordingly to form a semi-thick batter.
Place the with batter, onion rings, a bowl with bread crumbs and an empty plate.
Dip onion ring in the batter first and then place in a bowl with bread crumb and coat it evenly and place in the plate. Repeat with other onion rings.
Heat oil in a vessel for deep frying.
Once the oil is medium hot, gently place the coated onion rings in it.
Flip the onion rings in the oil and fry until light golden.
Take them out in kitchen towel-lined plate and it is ready to be served!
The lit snack that everyone enjoys! If heat outside made you cancel your outing plans, well don't be sad, because this recipe with turn your vibe around! Do try this recipe and let me know your experience with this snack!
Happy Cooking!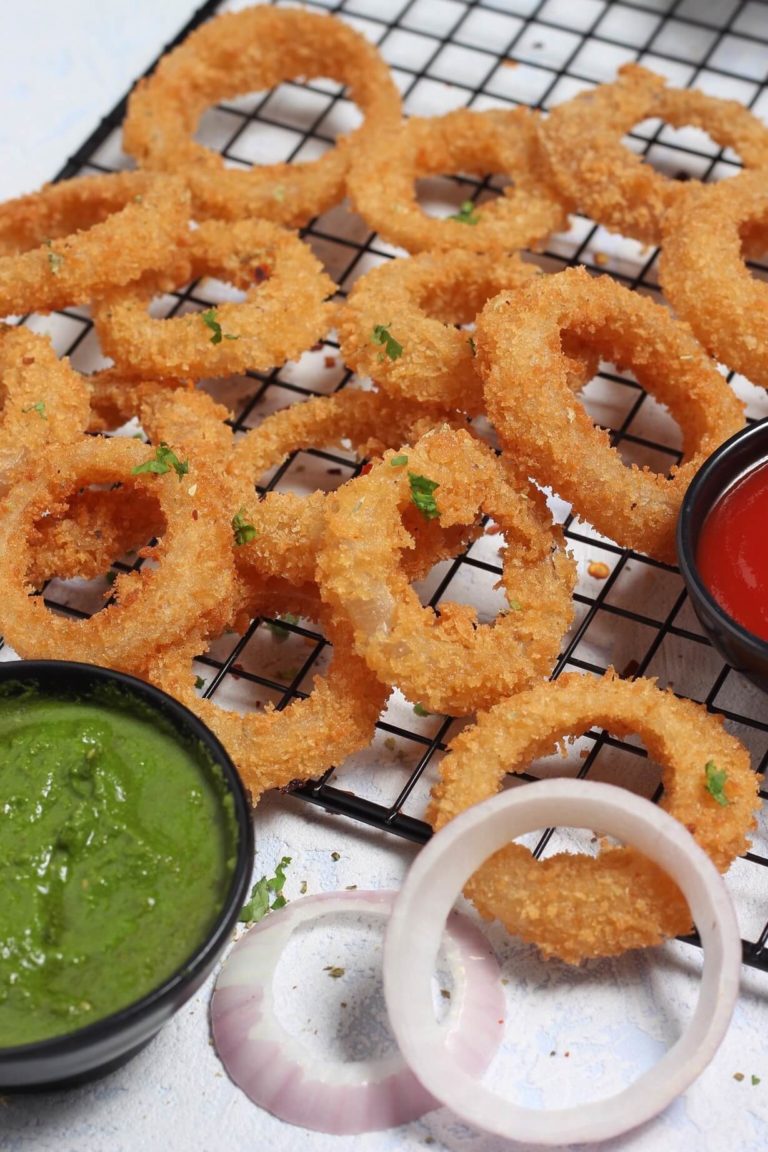 Siddhi Panchal is a food blogger at CookingwithSiddhi and food aficionado who loves to cook. Her cooking skills cover a range of Indian and international cuisines. Her aim is to enable other food enthusiasts explore their love for food by helping them cook delectable dishes from India and around the world.