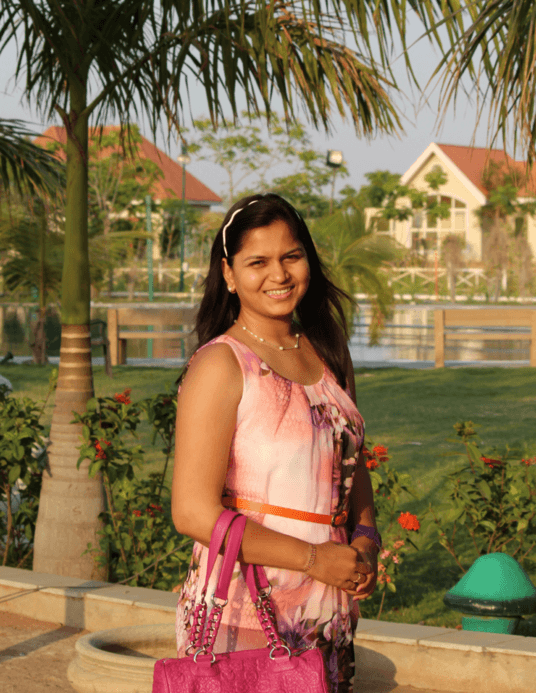 Are you stressed about what you have to cook for a party at home tonight? Are you confused as to what you have to send in the tiffin box for your child? You are bored of doing the regular stuff again and again? Then fret no further as you will see how I have taken a passion for cooking and have started my cookery blog and a YouTube channel.
My Past
Being born into a family that belonged to the Jain community, my upbringing was a very memorable and pleasurable experience, amidst lot of love, amazing people, culture and tradition which I cherish even now. And being the only girl born after two boys, my childhood was and adulthood is now exhilarating, amidst lot of pampering from parents as well as elder brothers.
I finished my graduation with first class and very soon entered into the work arena. I enjoyed working with a company that had given me enough exposure in my specialized area which propelled my growth in the right and positive direction. Working in the company had become a great delight as my husband-to-be, (whom I met in my college as a senior and fallen in love with) was also working in the same company as I was. I take great pride in saying that, in our journey together so far, HE is my pillar of strength and keeps me motivated to do things in an innovative manner.
After getting married into a family where it is just love showered on their daughter in law as if she were their own daughter, I found no need to work and hence decided to take a break. I thought of enjoying my married life to the hilt by being a good bahu and a dutiful wife. But then, I got bored very soon. I wanted to do something. The busy bee that I was, sheer boredom drew me towards taking up freelance work which I had enjoyed doing for a long while till my son happened. Well, you can imagine the rest of the story as to how it is with new borns and growing kids!
This is when my entire world changed. Not just for me, but for my husband as well as my in-laws. No doubt we were all preoccupied with the kid but a major challenge was hovering in front of me as he grew up to be a fussy child as far as eating food was concerned. Discussions with friends and elders in the family helped me realize only one thing, that I have to be patient with my kid and most importantly, I need to come up with some delicious and yet nutritive item to make eating sessions fun for him.
My Present
Now, for a person who was engaged so far in front of the system doing different types of projects and meeting deadlines this new found assignment was really challenging. I forgot to mention one thing here. After I got married into my new home, I used to take time out from my freelancing to cook for my husband and in-laws. They used to love my cooking and used to encourage me which prompted me to take time out frequently from my schedule and cook something delicious for them.
So, the challenging task of giving my baby nutrient rich food did not deter my confidence. I became more resolute in my decision to come up with ways and means in which I could make his eating episodes filled with fun and enthusiasm. With this started my quest for finding the best of recipes that would contain in them all the nutrients that are needed for healthy growth and development.
Then, this thought struck my mind all of a sudden! Why should I concentrate my energies towards cooking a healthy meal for my child alone? Why not elders too and all of us, who love to eat food and enjoy food! Yes!! I found my purpose now, I thought! And that is how COOKING WITH SIDDHI took shape.
I am now fully occupied with COOKING WITH SIDDHI as I have my online presence too through my YouTube channel. Through my website you can check out the recipes for appetizers, beverages, soups and salads, chaats, curries, different varieties of rice, dals and desserts and sweets. I am engrossed in trying out different cuisines which you can also find access through my website. South Indian, North Indian, Gujarati, Rajasthani cuisines are what I frequently engage doing in and not to forget Chinese cuisine.
A major section of my cooking is allocated to kids friendly cooking, especially on ideas and recipes that you could make use of to fill in their snack boxes and lunch boxes. Making kids eat from their lunch boxes is definitely a Herculean task. I have got yummy ideas that we can implement and get them to eat their snacks with minimum fuss. They are fun to make and healthy to be eaten too. And if you are a Jain and wish to add more variety to your cooking, I also have a segment allocated especially for Jain recipes. Being a Jain myself, I know how difficult it is for people to make yummyliscious dishes without using onion and garlic. Trust me people, we can stir out lip smacking dishes even without making use of onion and garlic and nobody will know about it too! In case you are looking for great breakfast ideas, then this is the perfect place that you have to be in.
I make it a deliberate and conscious effort to make the entire process interesting and less time consuming. After all, who would want to spend endless hours in the kitchen?!! Come, watch how I make cooking easy and a pleasurable delight for all of us!
Subscribe to my YouTube channel to know more about the dishes that I make and post or follow this website closely so that you can try out different varieties of cuisine daily.
Cooking and blogging have become my passion now. Your suggestions mean a lot to me and are always welcome. You may also write to me asking for a specific recipe or a video of that dish and I will get back to you with the same at the earliest! Write to me at ________________