This Diwali season, don't compromise on your health. Keeping in mind the nutritious benefits of Makhanas, I have come up with this healthy yet delicious Makhana Chivda Recipe.
The benefits of eating this desi snack are endless and very well known in every Indian household but its time to eat this wonder nut beyond your pooja and prasad!
If you are a Makhana lover like myself and want to relish a good recipe or two without having to worry about those extra pounds you can try Phool Makhana Munchies and Makhana Cutlet.
Makhana Chivda Recipe and Text Recipe Below
Ingredients
150 gm Fox nut
1/4 cup Almonds
1/4 Cup Cashew
1/4 cup Peanuts
3 Tbsp Cooking Oil
1 Tbsp Raisins
1 Tbsp Dry Coconut Flakes
1/4 Tsp Turmeric Powder
1/2 Tsp Red Chili Powder
1/2 Tsp Black Salt
1/2 Tsp Dry Mango Powder
1/2 Tbsp Chaat Masala
Few Curry Leaves
2 Sliced Green Chili
Salt to Taste
Directions
Heat a pan and then dry roast fox nuts. It will take about 6-7 minutes. Take it out in a bowl.
Clean the same pan and heat it and then add oil. Once the oil is hot add almonds and roast for half a minute.
Next, add cashews and peanuts and roast them as well until lightly golden.
Now you can either takeout the roasted nuts or move them to a side in the pan. In the same oil add sliced coconut shavings and raisins and roast them. Move them with other nuts.
Throw in some curry leaves and chopped green chilies and once they are crispy mix all the ingredients together. Switch off the flame
Empty the center of the pan, and add turmeric powder, red chili powder, dry mango powder, and black salt.
Turn on the flame and mix contents of the pan.
Sprinkle salt to taste.
Finally, add the dry roasted fox nuts and sprinkle chaat masala and blend it well with spices and nuts on low flame.
The fox nut Chivda is ready to be served and it can be stored for up to a month in an air-tight container.
This is such a brilliant recipe that puts together all healthy ingredients to make a perfect fulfilling snack. Do try this recipe and let me know your experience in the comments below
Happy Cooking!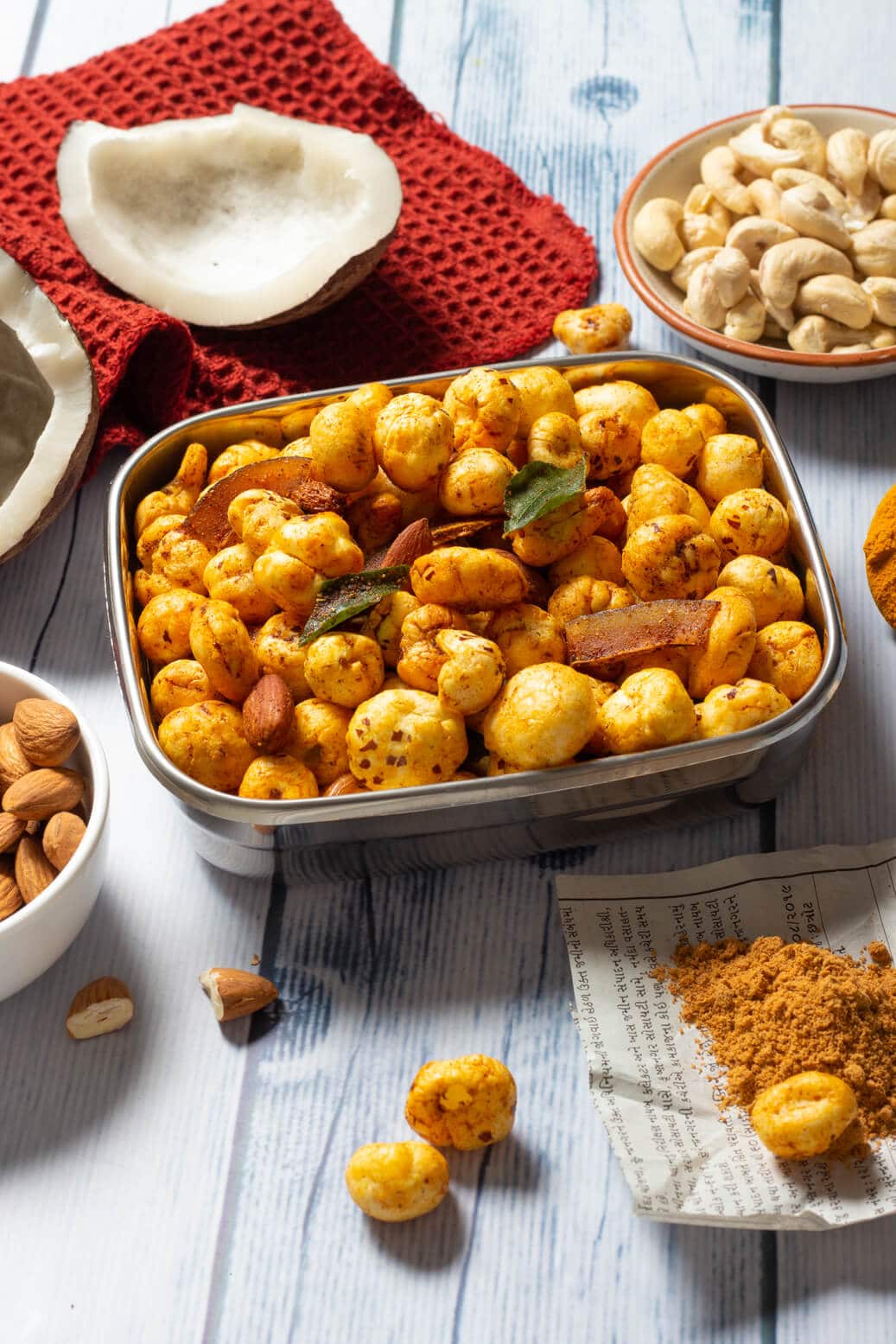 Siddhi Panchal is a food blogger at CookingwithSiddhi and food aficionado who loves to cook. Her cooking skills cover a range of Indian and international cuisines. Her aim is to enable other food enthusiasts explore their love for food by helping them cook delectable dishes from India and around the world.