These days everybody is concerned about their health. People carry out different diets to maintain their weight. Having a salad a day is directly equated with higher nutrient intake. If you eat salads with raw vegetables and fruits are more likely to meet recommended intakes for vitamins C, E, and folic acid.
Today salad is a fun twist and the ingredient that we are going to use is Poha, flattened rice. Throw in some tangy spices and veggies and fruits and Voila!
You should definitely try Corn Salad and Green Chickpea Salad, have variations throughout the week and enjoy!
Poha Salad Recipe and Text Recipe Below
Ingredients
1 Cup Flattened Rice
1 Small Finely chopped Cucumber
1 Small Finely chopped Tomato
1/4 Cup Pomegranate Seeds
1/2 Finely chopped Carrot
1/2 Tbsp Cooking oil
2 Tbsp Green Chutney
1 Sliced Green chili
1/2 Tsp Cumin seeds
1/2 Tbsp Chat masala
1/2 Tsp Black salt
Salt to taste
Directions
Heat a pan and add oil to it.
Add cumin seeds.
Next, add green chilies and roast it for 15-20 seconds.
Add Poha and on low-medium flame let it cook till it gets a crispy texture. It will take 4-minutes
Add salt and mix. Switch off the flame and keep it side.
In a large mixing-jar add pomegranate, chopped carrot, tomatoes, and cucumber.
Spice it up by adding black salt, chat masala and mix well.
Spice it up by adding black salt, chat masala and mix well.
The salad is good to go!
Just pour in hand-made green chutney and serve. Enjoy it with your family and let me know about your experience with the recipe in the comments below.
Happy cooking!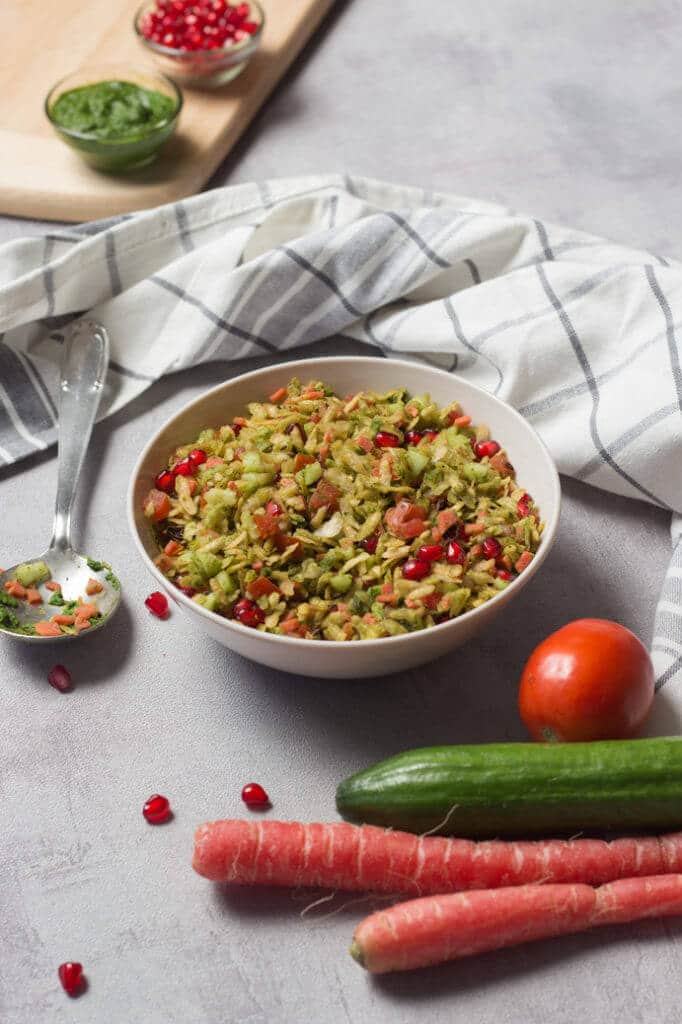 Siddhi Panchal is a food blogger at CookingwithSiddhi and food aficionado who loves to cook. Her cooking skills cover a range of Indian and international cuisines. Her aim is to enable other food enthusiasts explore their love for food by helping them cook delectable dishes from India and around the world.