If you are trying to prevent or manage Diabetes, oat is a great ingredient to opt for. Not only this, by eating oats you ensure the reduced risk of cardiovascular diseases, it also lowers cholesterol levels, improves immunity and there are various benefits hidden in just one bowl of oats.
There are many types of oats, namely, steel cut oats, whole oat groat, Scottish oatmeal, regular or rolled oats, and quick cook oats.
Today's recipe is Oats Chilla or Oats Veggie Pancake. This recipe is a great combination of oats and gram flour along with semolina, tons of veggies and spices. Addition of curd lends a tang and fluffiness in the texture
Let's get started with the recipe!
Oats Chilla Recipe and Text Recipe Below
Ingredients
1 Cup Oats
1/4 Cup Semolina
1/4 Cup gram flour
1 Roughly Chopped Medium size Capsicum
1 Roughly Chopped Medium size Onion
1 Roughly Chopped Big Tomato
1 inch Ginger
2 tbsp Roughly Chopped Coriander
2-3 Crushed Green Chili
1/2 tsp Roasted Cumin seed powder
1/2 tsp Red Chili powder
1/4 tsp Turmeric powder
Salt to taste
Directions
In a mixing jar or a chopper grind oats to a powder form.
In the same jar add semolina, gram flour, capsicum, onion, tomatoes, chopped green chilies, roasted cumin seed powder, ginger, red chili powder, turmeric powder, salt to taste and put the lid back on and grind once again.
Add curd (optional or water grind until all ingredients blend together.
Add water accordingly to make the batter of the right consistency.
Next, heat a non-stick pan, add a ladle full on it, and spread wide with the base of a ladle and let it cook on low-medium flame.
Add oil and it is again optional.
Once the base is cooked flip it over and cook until it is golden in hue.
Prepare more of these oats pancakes similarly and take them out on a plate.
Relish these golden-hued oats pancakes with green chutney and fill your tummy. Do let me know your feedback in the comment section below.
Happy Cooking!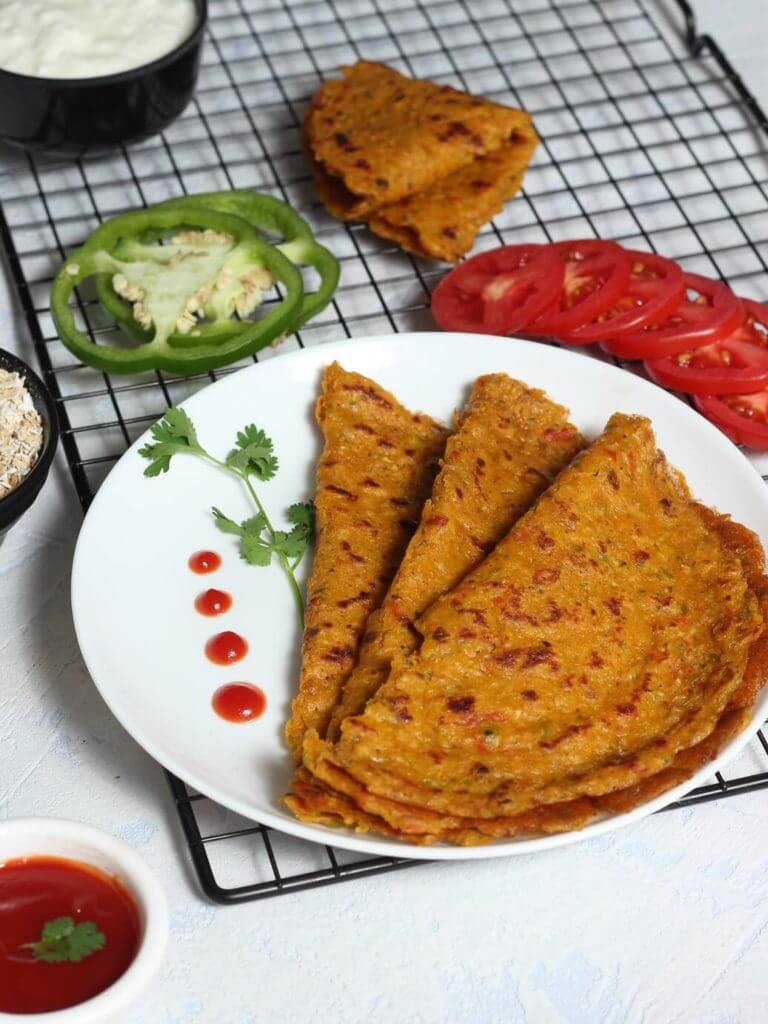 Siddhi Panchal is a food blogger at CookingwithSiddhi and food aficionado who loves to cook. Her cooking skills cover a range of Indian and international cuisines. Her aim is to enable other food enthusiasts explore their love for food by helping them cook delectable dishes from India and around the world.
Summary
Recipe Name
Oats Chilla - Weight Loss Special Recipe
Author Name
Published On