This Sabzi should be made pretty often in all kitchens. Essentially, when one gets bored of eating the same veggies, lentils or in the situation when there is no fresh stock of groceries.
It's such a simple curry. There's practically no prep work besides boiling the baby potatoes. It has a tangy taste to it due to curd.
The most satisfying element about this Punjabi Dahi aloo recipe is its homeliness. It has few ingredients but the zest really shine through.
To make Dahi Aloo, we initially boil the baby potatoes and roast them well in the oil. The fascinating part is preparing the spiced curd mixture and adding it to tempering. Undoubtedly, they taste so much better this way.
To prevent curd from curdling do the following –
Always whisk the curd until it's smooth before adding it to the cooking vessel.
The curd should be at room temperature.
Before adding the curd to the tempering, make sure it on low or no flame.
Keep whisking continuously as you add the curd in the cooking vessel.
Dahi Aloo Sabzi Recipe and Text Recipe Below
Ingredients
300 gm Boiled and peeled baby Potatoes
1/2 Cup Curd
2 Medium sizes Finely Chopped Onion
4 Tbsp Cooking Oil
2 Tbsp Finely Chopped Coriander
3 Cardamom, 6-7 Black Pepper, 3-4 Clove, Cinnamon
2 Dry Red chili and Bay leaf
1/2 Tbsp Ginger Garlic Paste
2 Slit Green chili
1 Tsp Garam masala
1 Tsp Dry Fenugreek leaves
1/2 Tbsp Red Chili Powder
1/4 Tsp Turmeric Powder
1/4 tsp Asafoetida
1 Tsp Dry Mango Powder
3 Tsp Coriander Powder
Salt to taste
Directions
In a steel kadhai pour ghee and heat it.
Add boiled baby potatoes and fry until golden in color from all sides on a low-medium flame.
In the other process, in the bowl with curd add Dhaniya powder, add half tbsp turmeric powder, dry mango powder, red chili powder, and now mix all spices.
When potatoes get a nice golden hue sprinkle turmeric powder and red chili powder, next take them out in a plate.
In the same kadhai and oil add hing, dry red chili and bay leaf, black pepper, clove, cinnamon, chopped onions, roast for a minute.
Next, add ginger-garlic paste cook for two minutes on medium flame.
Cut the whole potatoes into equal halves.
On low flame add green chilies and spiced curd and mix quickly to avoid it getting from curdled.
Cook continuously until curd and oil splits.
Now add potatoes and mix them well and let it cook for a minute.
Add water according to your liking for the consistency.
On full flame let it come to a boil, add salt to taste and mix well.
On a low flame, cover the kadhai with a lid cook for 5-7 minutes.
After 7 minutes, remove the lid sprinkle garam masala, hand crushed Kasturi methi and chopped coriander leaves. Mix well again.
The Punjabi Dhaba style Dahi aloo is ready to be served.
This heaven of a dish is ready and it is finger licking good. You and your folks well go bonkers over this Dahi Aloo recipe. Let me know your experience with the dish in the comment section below.
Happy Cooking!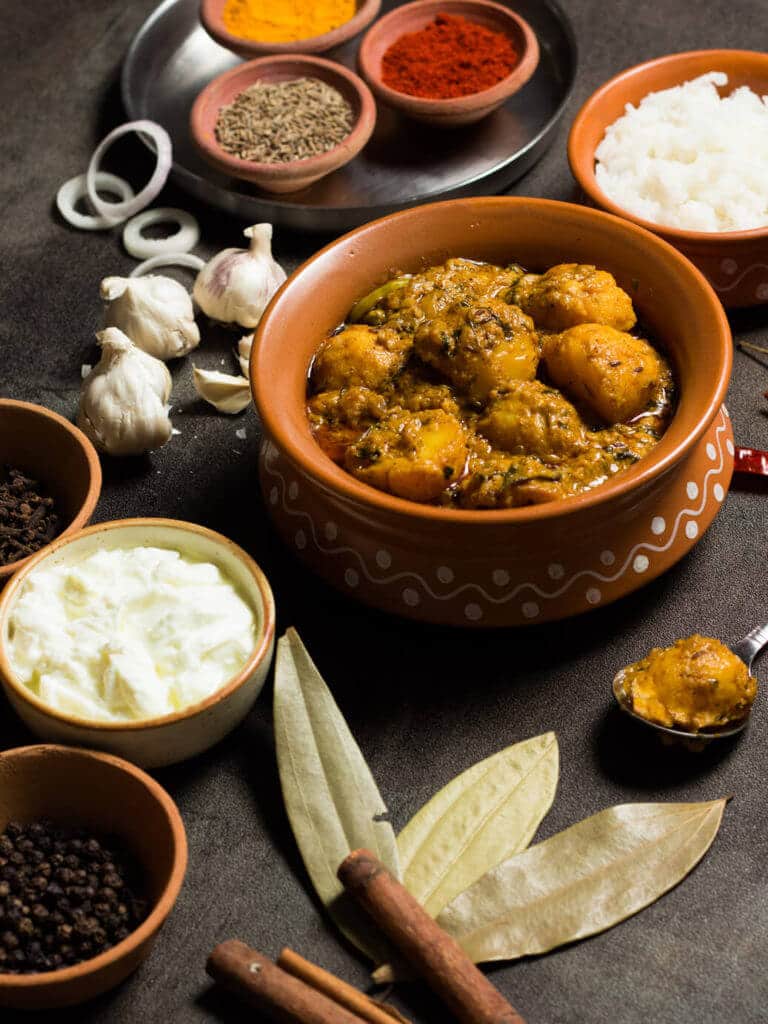 Siddhi Panchal is a food blogger at CookingwithSiddhi and food aficionado who loves to cook. Her cooking skills cover a range of Indian and international cuisines. Her aim is to enable other food enthusiasts explore their love for food by helping them cook delectable dishes from India and around the world.