Eating merely anything for breakfast will not serve the purpose. It is, therefore, quintessential to plan your breakfast each day, particularly for those looking to drop a few kilos.
A wholesome and well-balanced feast should consist of carbohydrates for energy, proteins for muscle structure and fiber for boosting metabolism.
The recipe I have for you is a much loved and relished South Indian dish Uttapam.
Another reason why we love eating uttapam is that it is the Indian Variant of Pizza. Unlike Dosa, Uttapam is thicker and porous.
Now what is unique about this uttapam recipe is that instead of rice flour we will be using wheat flour.
Why wheat you ask?
The efficacious health benefits of wheat include its capability to control obesity, stimulate energy, impede type 2 diabetes, increase metabolism, and inhibit asthma and gallstones. It also boosts digestion.
And veggies, you can add a whole lot of veggies to make it taste great, healthy, and crunchy.
Let's get started with the recipe!
Wheat Uttapam Recipe and Text Recipe Below
Ingredients
1 Cup Wheat flour
1 Small Capsicum Finely Chopped
1 Small Onion Finely Chopped
1 Small Tomato Finely Chopped
3 to 4 tbsp Whisked Curd
1 pack of Eno
2 tbsp Boiled Sweet Corn
Cooking oil as needed
1/2 tsp Cumin seed powder
2 tbsp Finely chopped coriander
1/4 tsp Turmeric powder
1/2 tsp Chili Flakes
Red chili powder as needed
Salt to taste
Directions
In a mixing bowl add flour, salt to taste, roasted cumin seeds powder, turmeric powder, chili flakes, and eno sachet and with the help of a hand whisker mix all ingredients well.
Next, add curd and 1/4th cup of water stir again.
Add water accordingly to make a semi-thick batter just like we do for the uttapam.
Heat a pan and add a ladle full on to it and using the back of the ladle spread it outwards gently.
Cook on low-medium heat, next add veggies- capsicum, tomato, corn, onion, coriander leaves, finally sprinkle a pinch of red chili powder and pat everything in with help of your fingers.
Oil the edges of the uttapam cover it with lid and let it cook for half a minute.
Flip over the side, cover with lid for half a minute.
Take it out on a plate.
The other way to cook uttapam is to carry out 4 to 6 step similarly but let the lid for over a minute. This way you don't have to flip over, it will be well cooked and then take it out on a plate.
Now we all know that uttapam tastes best with coconut chutney, so make one buy from your local grocery store. This is a fulfilling breakfast recipe. Do make this Wheat flour Uttapam and share your experience with me.
Happy Cooking!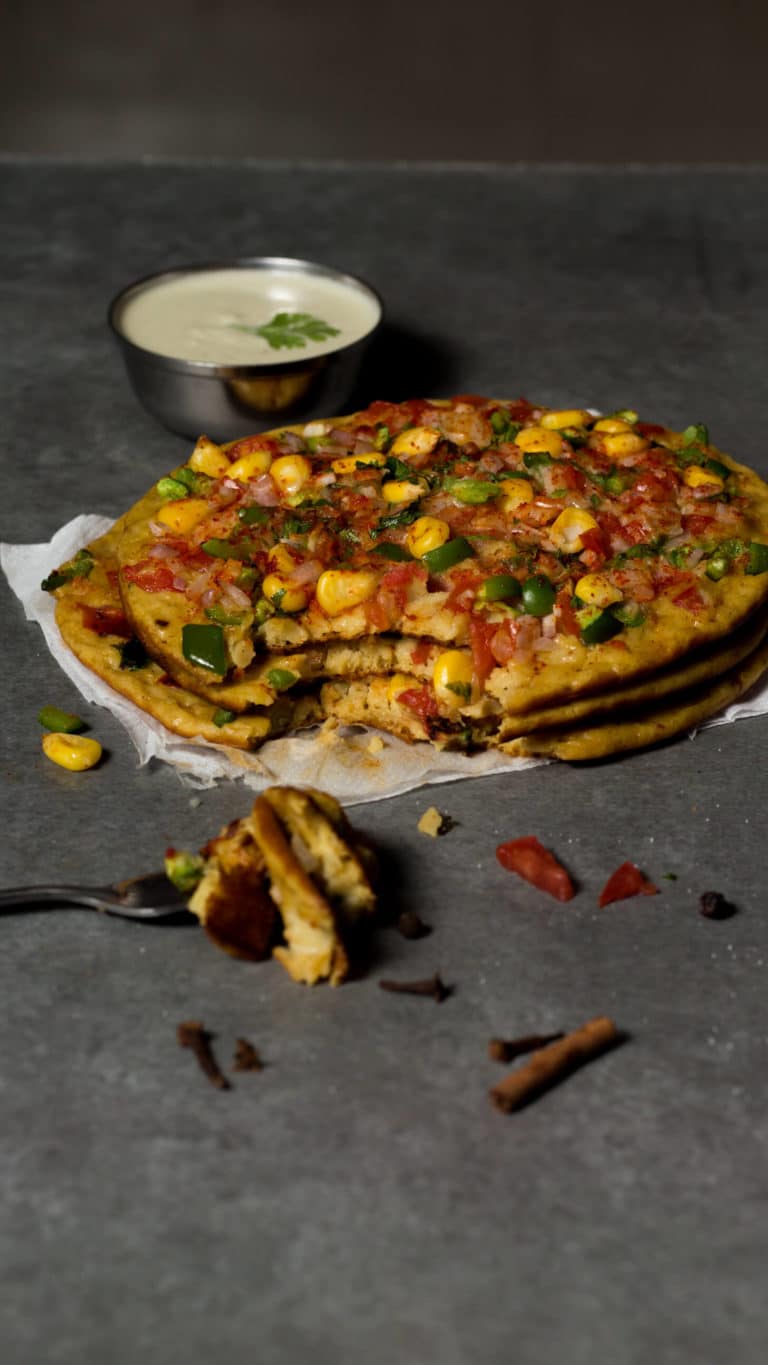 Siddhi Panchal is a food blogger at CookingwithSiddhi and food aficionado who loves to cook. Her cooking skills cover a range of Indian and international cuisines. Her aim is to enable other food enthusiasts explore their love for food by helping them cook delectable dishes from India and around the world.