Pakoras/Pakodas or as we call them bhajiyas are absolute staple to brighten this rather gloomy rainy season. I bring to you not one or two but an assorted platter of five types of pakodas to complement your tea time.
Whether you are a beginner or a pro at cooking, you can win hearts with this simple and quick recipe with all the constituents readily available in any Indian kitchen.
Honestly, rainy season calls for all kinds of pakodas and kebabs so, apart from this platter you can try Crispy Chinese Pakoda, Pasta Pakoda or Crunchy Paneer Pakora.
Assorted Pakora Platter Recipe and Text Recipe Below
Ingredients
Potato Slices
Onion Slices
Capsicum Slices
Paneer/Cottage Cheese Slices
Green chili
1 Cup Chickpea flour
2 Tbsp Rice flour
1/4 Tsp Asafoetida
1/2 Tsp Garam Masala
1/4 Tsp Turmeric powder
1/2 Tsp Carom seeds
1/2 Tsp Red chili powder
1 Tsp Coriander powder
1/4 Tsp Black Salt
1/4 Tsp Chaat Masala
Salt to taste
Directions
In a mixing bowl add gram flour, rice flour, asafetida, red chili powder, turmeric powder, garam masala, and palm crushed cumin seeds, salt to taste.
Now add water accordingly and make it into a semi-thick batter.
First, we will make Mirch Pakora, and prepare masala mix- Dhaniya powder, chaat masala, and salt.
Slit chilies from the middle and stuff the masala mix into them. Put them in a bowl.
Heat oil in a vessel for deep frying.
Once medium hot, dip stuffed chilies in the batter and then gently place them in oil.
Flip them in the oil and cook until golden in hue. Ready to be served.
Dilute batter a little, and dip potato slices and then fry them cook until light golden. Prepare them to serve.
Similarly, dip in batter and fry the onion, capsicum, and paneer.
Take them all out in a kitchen towel-lined plate and munch on!
Rain drizzling outside and a hot plate of this pakora platter is all you need! Gather your friends and family and I am sure everyone will fall in love with these assorted pakoras!
This recipe is a must-try.
Do make it in your kitchen and let me know your feedback!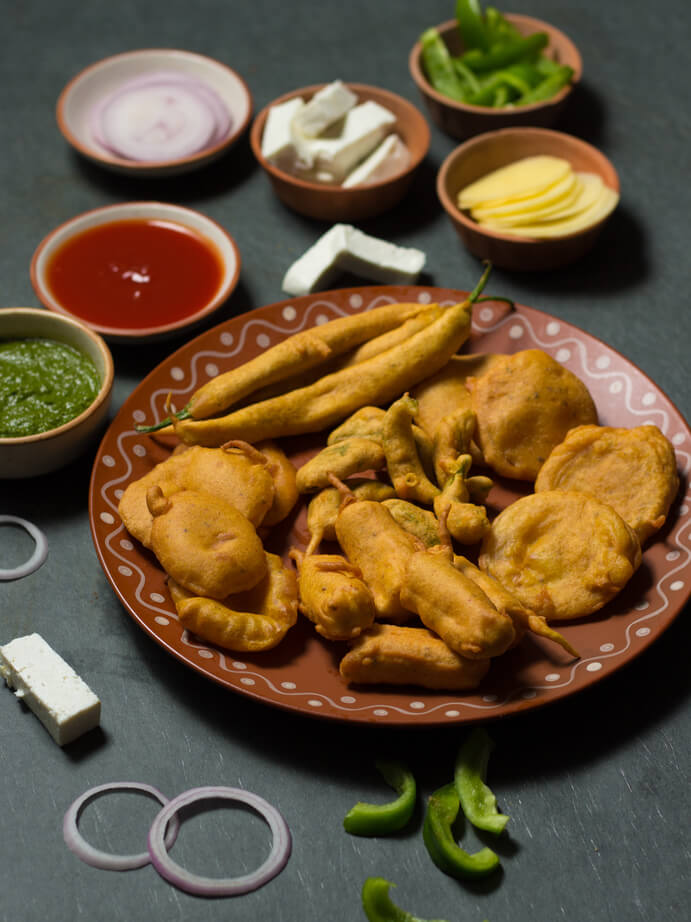 Siddhi Panchal is a food blogger at CookingwithSiddhi and food aficionado who loves to cook. Her cooking skills cover a range of Indian and international cuisines. Her aim is to enable other food enthusiasts explore their love for food by helping them cook delectable dishes from India and around the world.