Puffed rice or murmura is very low in calories when compared to other ready-to-eat cereals. A 3/4-cup portion of a bran flake cereal has 98 calories, and interchanging out your bran flakes for puffed rice can lessen 44 calories per serving.
If you're trying to lose weight, this may help you lose 1 pound each 2 1/2 months. It may seem like a slow process to lose weight, but small step counts.
Today's recipe is tangy, spicy and sweet and sour, in short full of flavors and will make your mornings a GOOD morning! A healthy breakfast recipe that is not boring and you may empty the bowl in seconds. It tastes incredible and everybody in your family will be a fan of this dish.
Try the other healthy breakfast options such as Potato and Onion Poha or Veggie Upma recipes to kick start you day.
Let's get started with the recipe.
Murmura Poha Recipe and Text Recipe Below
Ingredients
4 Cup Murmura
1 Medium size Finely Chopped Tomato
1 Medium size Finely Chopped Onion
1 tbsp Oil
1 tbsp Peanuts
1/4 tsp Asafoetida
1/4 tsp Turmeric Powder
1/2 tbsp Red Chili Powder
1 tbsp Lemon juice
1-2 Sliced Green chili
1/2 tsp Cumin seeds
8-10 Curry leaves
1/2 tsp Chaat masala
1 tbsp Coriander
Salt to taste
Directions
In large mixing bowl add murmura to it. Add water to it, gently turn it over with hand or spoon and strain it.
Heat a kadhai and add oil to it.
Add peanuts on low medium flame sauté it for few seconds.
In the same kadhai, lower the flame first, add cumin seeds, asafetida, and green chilies and curry leaves. Sauté for 15-20 seconds.
Add onions, ¼ tsp salt and cook for 2 minutes.
Add tomatoes and cook until they are soft.
Now add turmeric powder, red chili powder, chaat masala and lastly the soaked and murmura.
Mix well; add salt to taste, squeeze in some lemon.
Switch off the flame and next add the sautéed peanuts and transfer into a serving bowl.
Murmura Poha is ready to be munched into. It looks irresistible and tastes incredible. I am sure you guys will try this recipe in your kitchen and after you do, please let me know how you like the dish by commenting below.
Happy Cooking!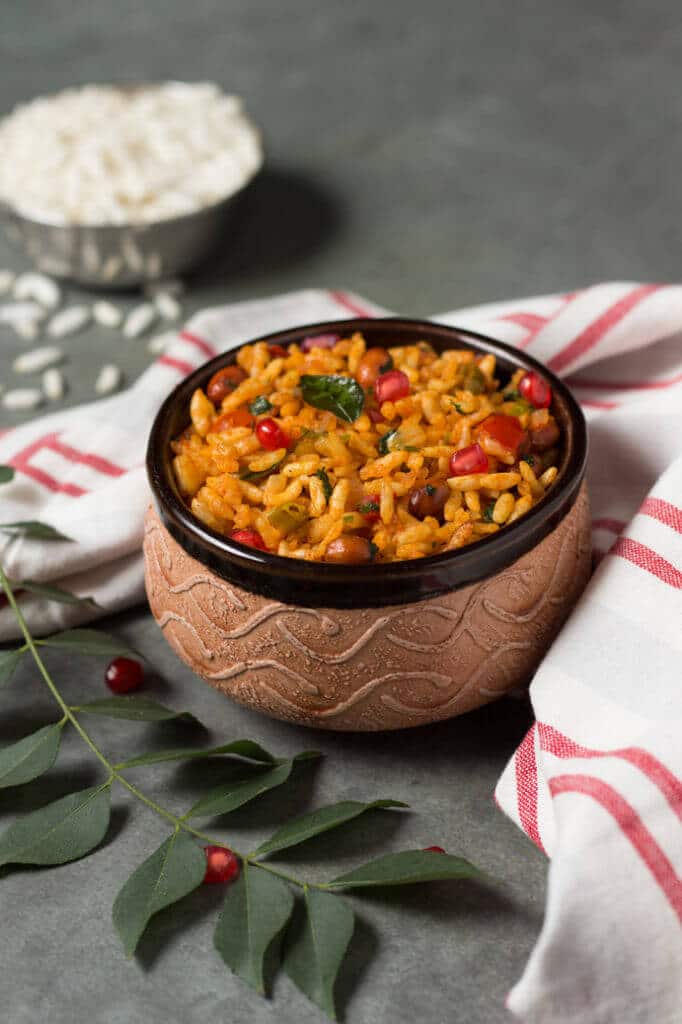 Siddhi Panchal is a food blogger at CookingwithSiddhi and food aficionado who loves to cook. Her cooking skills cover a range of Indian and international cuisines. Her aim is to enable other food enthusiasts explore their love for food by helping them cook delectable dishes from India and around the world.