Mumbai enjoys recognition as a food haven as it serves the all-time-favorite snack – Pav Bhaji. Though almost every Indian restaurant has this Mumbaiya specialty on its menu, the experience of gorging on a Pav Bhaji in Mumbai is unmatched.
The hot, spicy, flavorful Bhaji is served with crunchy onions and slices of lime, complemented with butter-dripping, just-off-the-tawa crunchy Pavs'. This dish is a street food favorite for all the good reason.
If you somehow haven't relished the Mumbaiya pav Bhaji, my recipe for Mumbai street style will take care of that experience for you. It is a party of flavors on your palate and you and your family are in for a treat!
Without further ado let's get the recipe started!
Mumbai Street Style Pav Bhaji Recipe and Text Recipe Below
Ingredients
3 Medium size Boiled and mashed Potato
1/3 Cup Boiled Peas
1 Medium size Finely Chopped Capsicum
1/2 Cup Finely Chopped Cabbage
2 Medium size Finely Chopped Onions
3 large Tomato Puree
3 Tbsp Oil
3 Tbsp Butter
1/4 Tsp Asafoetida
1/4 Tsp Turmeric Powder
1 Tbsp Pav bhaji Masala
1 & 1/2 Tbsp Red chili powder
1 Tbsp Ginger garlic paste + 1 Tsp Pav Bhaji masala
Salt to taste
Directions
Heat kadhai, add oil then butter and once it melts add chopped onions to it. Sauté it for a minute. Add ginger garlic paste and mix it well.
Now add chopped capsicum, cabbage, and roast for about 2 minutes.
On a low flame add asafetida, turmeric powder, pav Bhaji masala, red chili powder and now mix well.
Next, add tomato puree, salt to taste chopped coriander leaves, cook until oil starts to separate.
It is time to add boiled and mashed potatoes, boiled peas, blend it well.
Add salt to taste and with the help of potato masher, mash all ingredients well.
On high flame pour in 1 cup water and mix again.
You can change the consistency of Bhaji by adding water. Add half cup more accordingly.
Add coriander and you can serve it at this stage. But you can move ahead in the recipe and see what can be done to make it more appealing.
Heat a small pan add oil and once it's hot add butter and let it melt and switch off the gas.
To this add 1/2 tsp Pav Bhaji masala, 1/2 tsp red chili powder.
Pour this tempering over the Bhaji and mix. Bhaji is ready.
Let's move to prepare pav. Heat a skillet and melt butter, cut the pav from half and place it on the skillet, let it absorb the butter and then close and place it again.
Apply butter on top and flip it over. Sprinkle coriander leaves and red chili powder.
For plating, in a serving bowl pour Bhaji, place pav by the side and last but no the least finely chopped onion and lemon.
Drooling all over?
Don't worry you have the tastiest recipes of Pav Bhaji that too straight from the street of Mumbai. Do try this recipe and let me know your feedback,
Happy Cooking!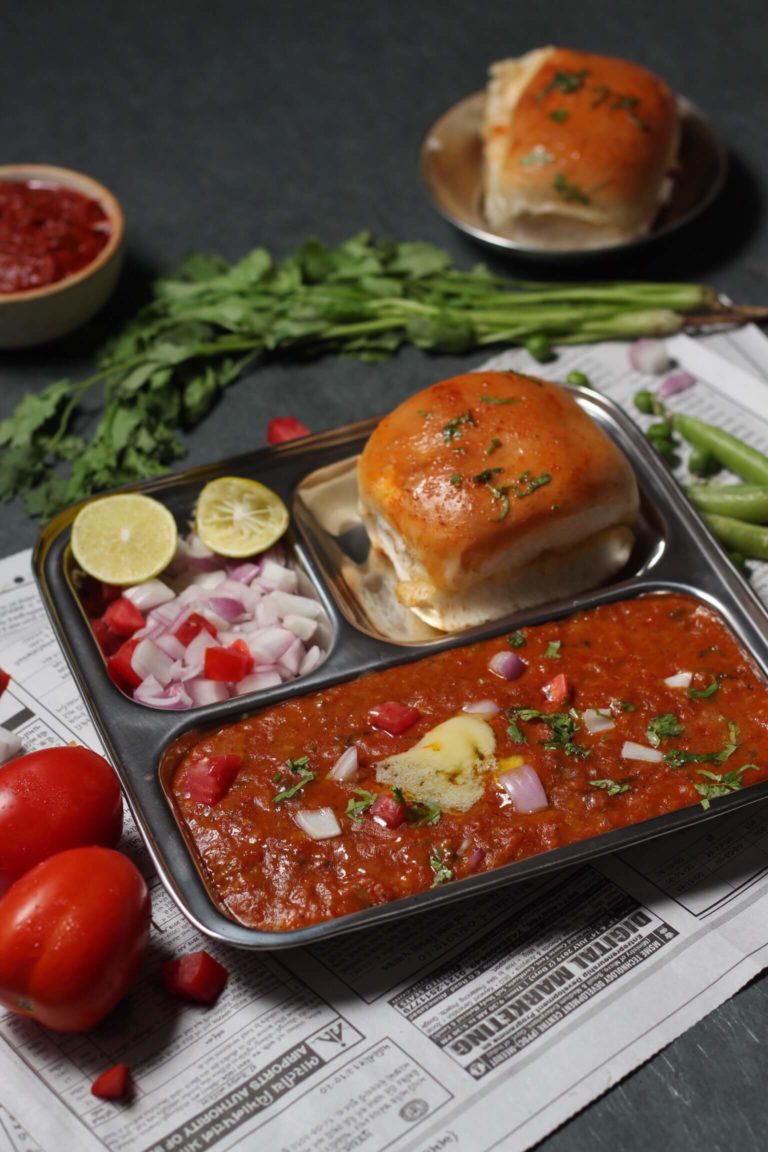 Siddhi Panchal is a food blogger at CookingwithSiddhi and food aficionado who loves to cook. Her cooking skills cover a range of Indian and international cuisines. Her aim is to enable other food enthusiasts explore their love for food by helping them cook delectable dishes from India and around the world.