Chivda is a staple snack in every Indian household. Also known as pantry snack, it goes with any occasion as a side dish with tea or stand-alone.
This is a quick and crunchy nasta recipe made beaten rice or poha. This Chiwda/Chivda recipe is a popular Maharashtrian dish but adopted by various cultures. In western and north-western India it is prepared for occasions like Diwali and is an important part of the entourage of snacks.
Satiate your taste buds not only in Diwali but every occasion. Check out this blog post where I have listed 75+ Diwali Recipes.
Follow the recipe below for this sweet and tangy treat.
Poha Chivda Recipe and Text Recipe Below
Ingredients
3 Cup Thin Flattened rice
1/4 cup Peanuts
1/4 Cup Cashew
1/4 cup Almonds
1/4 Cup Dry Coconut Flakes
1/4 Cup Raisins
1/3 Cup Oil
1/2 Tsp Dry Mango Powder
1/2 Tsp Black Salt
Few Curry leaves
2-3 Sliced Green chilli
1/2 Tsp fennel seeds
Directions
In a thick bottomed steel vessel on high flame, dry roast Poha until it is crispy.
In the same vessel add oil and heat it. Once hot add peanuts and roast them on medium flame until it is crispy and take it out on a plate.
Similarly roast almonds, cashew, dry sliced coconut, and raisins on low medium flame. Take them all out on a plate
In the same oil, add fennel seeds, sesame seeds, green chillies, on low flame roast these for about half a minute.
Now add curry leaves and cook until crisp.
Next, add turmeric powder and all roasted dry fruits.
Sprinkle dry mango powder, black salt, chaat masala and now mix all ingredients.
At the final stage add the roasted Poha, sprinkle a pinch of salt to taste, powdered sugar, and toss all ingredients well blending all spices.
The Poha Chivda is ready to be served.
The best snack to have with family and friends. Do let me know your experience with the dish through comments.
Happy Cooking !!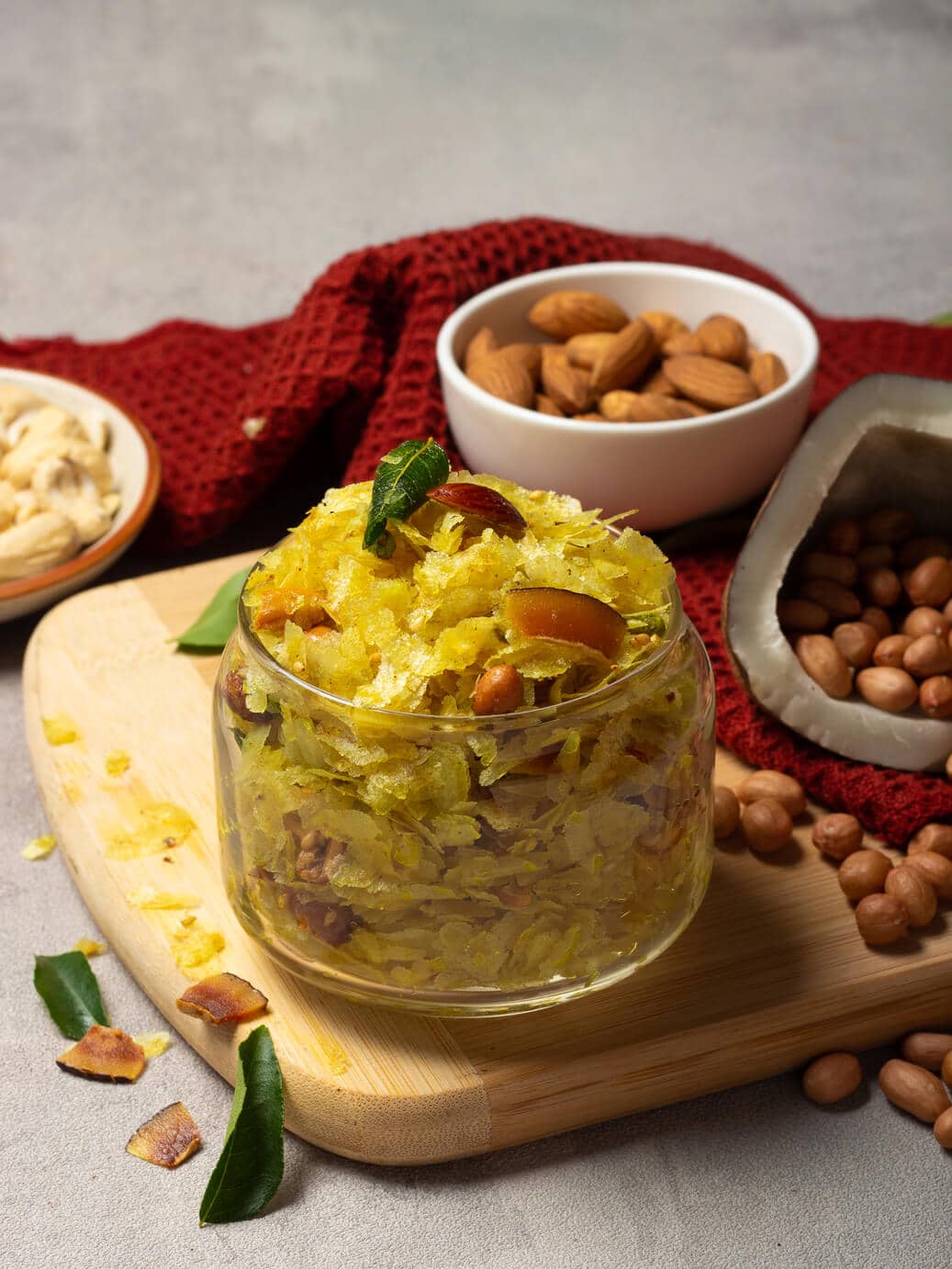 Siddhi Panchal is a food blogger at CookingwithSiddhi and food aficionado who loves to cook. Her cooking skills cover a range of Indian and international cuisines. Her aim is to enable other food enthusiasts explore their love for food by helping them cook delectable dishes from India and around the world.