Curd Rice is known for the feeling of satisfaction it inflicts to your palate, a comfort food straight from the kitchen of South India. Although the South Indians consume it on a daily basis (WOW), here is a simple recipe for you to get your hands on this amazingly easy, instantly ready and authentic South Indian curd rice.
Apart from serving your palate with enticing flavors, it has plenty of health benefits too.
Fight disease-causing bacteria and keeps your digestive and intestinal tract safe.
Curry leaves contain carotenoids from Vitamin A, improving the health of the eyes.
Curd and rice consumed together nourishes and prevents skin from drying.
Okay okay! These might be enough to get you up and head straight to your kitchen.
Let's get started!
Curd Rice Recipe and Text Recipe Below
Ingredients
2 Cup Rice 2 Dry Red Chili
1/2 tsp Mustard seeds
1/2 tsp Cumin seeds
1/4 tsp Fenugreek seeds
1/2 tsp Asafoetida
1 tbsp Finely chopped Coriander
1-2 Sliced Green Chili
1 tsp Black Gram Lentils
1 & 1/2 Cup Fresh Curd
2 tbsp Pomegranate
10-15 Curry Leaves
1 tbsp Clarified butter
Salt to taste
Directions
In a mixing bowl add cur to it. Whisk until the curd it is lump free.
Add rice and mix well with the curd.
Add half tsp salt and mix.
For tempering, heat a small pan and add ghee to it.
Once it is hot add urad dal, on low flame roast it until it is golden in color.
Now add mustard seed, fenugreek seeds, cumin seeds, on medium flame roast them for half a minute, stirring continuously.
Next add asafetida, green chilies, dry red chilies, and lastly curry leaves. Roast for 15-20 seconds.
Switch off the flame and pour the hot tempering over the curd and rice mixture.
Add chopped coriander leaves and pomegranate, mix all ingredients well.
Transfer it in a serving bowl. And tell you what it is one exotic looking dish and the taste is powerful enough to make you startle. Such a simple recipe and it is a party of flavors on your palate. Do let me know your experience with the dish in the comment section below.
Happy Cooking!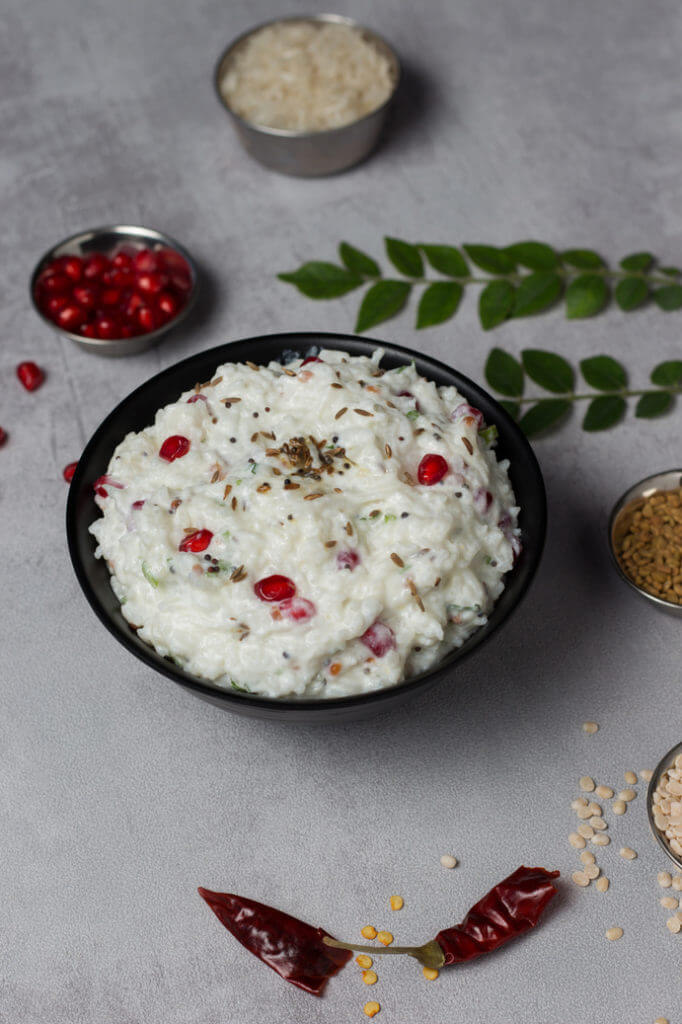 Siddhi Panchal is a food blogger at CookingwithSiddhi and food aficionado who loves to cook. Her cooking skills cover a range of Indian and international cuisines. Her aim is to enable other food enthusiasts explore their love for food by helping them cook delectable dishes from India and around the world.