Our obsession with Moong dal pakoda is undeniable. The vendors selling these hot pakodas with grated radish and lip-smacking green chili chutney simply make our mouth water and you can eat only one plate- said no one ever. These pakoda sell like hotcakes and are also called Ram laddoos especially in Delhi.
Although the Moong Dal Pakoda faces a lot of competition from its other counterparts such as Gol Gappe, Chaat Papdi it has still managed to carve its place in the hearts of millions of foodies. It is an easy make and an all-season snack, Moong dal Pakodi is the perfect company for your evening chai. Even though they deep-fried, these bite-sized sensations never seem too heavy on your stomach. The snack can be easily prepared at home. And here is your guide to humble yet delectable Moong dal Pakodas.
Moong Dal Pakoda Recipe and Text Recipe Below
Ingredients
1 Cup Soaked Split Green Gram(6 to 7 hours or overnight in normal water)
1 Large Finely Chopped Onion
1/4 Cup Finely Chopped Coriander leaves
1/2 Tbsp Ginger Garlic paste
2 thin sliced Green Chilies
1/4 Tsp Turmeric Powder
1/4 tsp Asafetida
1 Tsp Red Chili Powder
Salt to Taste
Directions
In a mixing jar pour in the overnight soaked slit green gram and add ginger garlic paste, salt to taste and coarsely grind it. Use a 1/4th cup of water when necessary.
Take it out in a mixing bowl.
Now to this add turmeric powder, red chili powder, and hing powder.
Add chopped green chilies, onions, coriander and a little water and mix well.
If the batter comes off thick again add water.
Heat oil for deep frying in a pan.
Now taking half teaspoonful of the batter pour it gently into the hot oil.
Fry them in the oil on medium flame until light golden from both sides.
Once done take them out on a kitchen towel lined plates.
Serve while watching FIFA with your friends and family. Dip them in ketchup and mint chutney or ant dip of your choice. I am sure you will enjoy goals and yummy pakodas. Do let me know how your experience was during preparing the pakodas.
Post comment and feedback to let me know about my dishes and recipes.
Siddhi Panchal is a food blogger at CookingwithSiddhi and food aficionado who loves to cook. Her cooking skills cover a range of Indian and international cuisines. Her aim is to enable other food enthusiasts explore their love for food by helping them cook delectable dishes from India and around the world.
Summary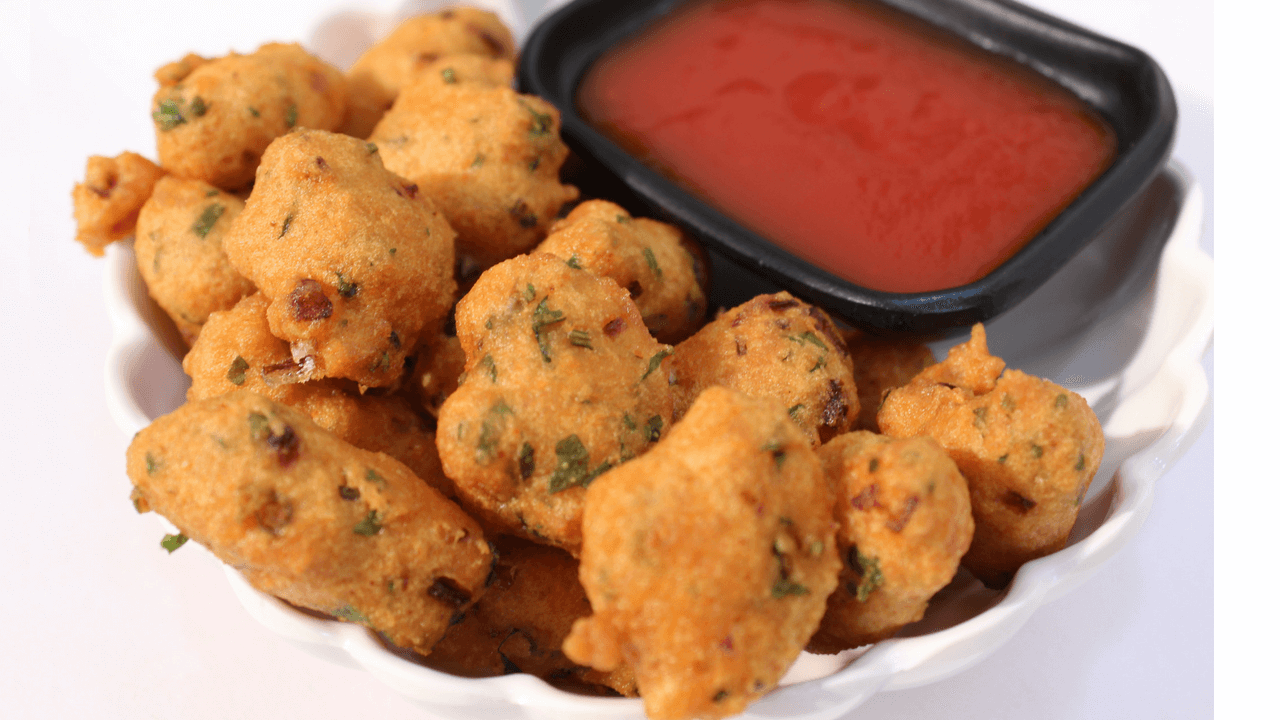 Recipe Name
Author Name
Published On