Snack time is the best time. Why? Because it has no time boundaries. Whenever you feel hungry, go to your kitchen and pop in your favorite snack and you are sorted.
Buying Snack every time is not a solution and also it isn't a healthy option. Why not make them at home instead.
I have got your back and today's recipe is for Crunchy Matar. It is made from freshly bought matar or peas, parboiled and then coated with spice and flour mixture for the crisp outer layer, later deep fried until get!
All you need to do is follow my recipe, make a fresh jar full of Crispy Matar munchies, cover yourself in a blanket, grab your favorite book and enjoy your me time.
Also checkout my Crispy Corn Recipe.
Let's get started with the recipe.
Crispy Matar Recipe and Text Recipe Below
Ingredients
2 Cup Peas
3 tbsp Corn flour
1/2 tsp Red Chili Powder
1/2 tsp Chili Flakes
1/2 tsp Dry Mango Powder
1 tsp Chaat Masala
1/2 tsp Black Salt
Salt to taste
Directions
Heat 3 glass of water in a steel vessel.
Once the water starts to boil add 2 cups of peas into it. On high blame let it simmer for 2 minutes.
Turn the flame off, and strain the peas. Keep it aside.
In a large mixing bowl, add corn flour, red chili flakes, dry mango powder, chat masala, black salt, and salt to taste and mix well all the dry ingredients.
Next, add the partially boiled peas and coat them evenly in the dry mixture.
Heat oil in a kadhai.
On low heat, gently slide in a spoon full of matars into the oil. Boil them for 4-5 minutes.
Now boil the same on a medium flame for 1 minute.
The batch is ready, take them out on a kitchen towel lined plate.
Repeat the same step to fry the rest of the spice coated peas.
Sprinkle chaat masala on top of it.
Store them in an air tight container, consume this yummy snack item. Keep a bowl of crispy matar around when you sit for family gatherings or indulge on your own while watching a movie, you ill completely relish it. Do let me know your experience with the recipe.
Happy Cooking!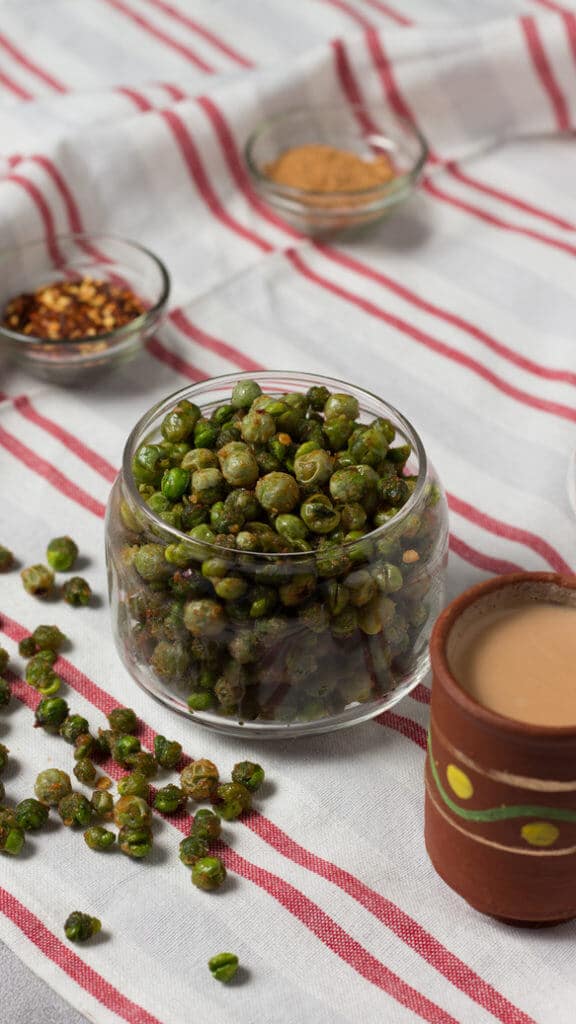 Siddhi Panchal is a food blogger at CookingwithSiddhi and food aficionado who loves to cook. Her cooking skills cover a range of Indian and international cuisines. Her aim is to enable other food enthusiasts explore their love for food by helping them cook delectable dishes from India and around the world.