What is Veg Manchurian?
Veg Manchurian is one of the most delicious Indian- Chinese dishes. It is an exotic dish which is made with a mix of vegetables such as carrot, capsicum, cabbage, onion, etc. The ingredients which are chiefly the vegetables are extremely good for our health and also the kids love these Chinese dishes, so making this amazing Chinese dish is a win-win situation.
The addition of vegetables in Manchurian is salubrious and here some health benefits to remind why cooking Manchurian can be advantageous.
Vegetables are a good source of dietary fiber, a type of carbohydrate that helps pass food through your digestive system.
Many green vegetables like spinach and chard contain potassium which can reduce blood pressure. Adding chopped spinach to the Manchurian can add flavor, color, and the dash of potassium you need.
Carrots contain vitamin K, which further prevents calcium from building up in your arteries.
Additionally, vegetables have a low glycemic index, so your blood sugar won't rise quickly after a meal.
Dry veg Manchurian combination:
Dry Veg-Manchurian on its own can be quite fulfilling, but veg Hakka noodles, veg fried rice, or schezwan fried rice would be a great combination. These smacking combinations are simply great lockdown blues.
Other Chinese recipes that you must try are Fried Rice, or Crispy Chinese Pakoda and Spring Roll.
Veg Manchurian Dry Recipe
Veg Manchurian is oneof the most delicious Indian- Chinese dishes. It is an exotic dish which ismade with a mix of vegetables such as carrot, capsicum, cabbage, onion, etc.
Ingredients
2

Cup

Cabbage

Finely chopped or grated

1

Large

Onion

Finely chopped

1

Small

capsicum

Chopped into cubes

1

Small

onion

Chopped into cubes

2

carrots

Finely chopped or grated

4-5

Garlic cloves

Finely chopped

3

Spring onions

Finely chopped

1

inch

Ginger

Finely chopped

2

Green chili

Sliced

2

Tbsp

All-purpose flour

2

Tbsp

Rice flour

2

Tbsp

Soya sauce

1

Tbsp

Red chili sauce

½

Tbsp

Green chili sauce

1 & ½

Tbsp

Schezwan sauce

1

Tbsp

Tomato ketchup

3

Tbsp

Cornflour

½

Tbsp

Vinegar

½

Tbsp

Black pepper powder

½

Tbsp

Garam masala

½

Tbsp

Red chili powder

Salt to taste
Instructions
Firstly, in the bowl with grated cabbage add a small quantity of salt and mix it well, then cover the cabbage with the lid for 5 to 10 minutes.

After 10 minutes take two bowls, squeeze the cabbage to separate the water, and the dry cabbage to another bowl. Don't throw the water you can use to make the gravy.

In a bowl with dry cabbage, you can add onion, carrot, garam masala, red chili powder, black pepper powder, 1 tbsp salt, 1 small spoon schezwan sauce, tsp ginger garlic paste, 2 tsp soya sauce, rice flour, all-purpose flour, or cornflour, and mix all ingredients, it's your choice mix it with spoon or hand.

When it begins to have a consistency like dough, shape it into small balls and place them on the plate.

Once the oil is hot, gently add the Manchurian balls to the oil and deep on the low flame to fry perfectly. When it is fried take them out on the kitchen towel.

In the other pan, add 1 ½ spoon of oil, when oil is hot add chopped garlic and cook for 1 ½ minute, once roasted, add capsicum, onion, ginger, or cooked 1 ½ minute, now add the spring onion, or green chili mix it well. On low flame and add the green chili sauce, red chili sauce, tomato ketchup, soya sauce, vinegar or mix it and cook for 1 minute.

Now sprinkle 1 tbsp cornflour in 2 tbsp water mix together and put it in this pan or with all ingredients mixed well, or simply add 2 tbsp of water again.

Now, put the fried Manchurian balls in the gravy.

Veg- Manchurian dry is ready to eat.
Nutrition
Calories:
187
kcal
|
Carbohydrates:
41
g
|
Protein:
5
g
|
Fat:
1
g
|
Saturated Fat:
1
g
|
Sodium:
938
mg
|
Potassium:
498
mg
|
Fiber:
7
g
|
Sugar:
13
g
|
Vitamin A:
8152
IU
|
Vitamin C:
64
mg
|
Calcium:
74
mg
|
Iron:
2
mg
The Veg Manchurian not only tastes mouthwatering but the aroma is fantastic too. I am sure it's going to pull in all your family members, ready with spoons to bite in. Don't waste a second more rush into your kitchen and make this dry veg Manchurian using my easy recipe and enjoy your day.
Do let me know your experience with the recipe in the comment section below.
Happy Cooking!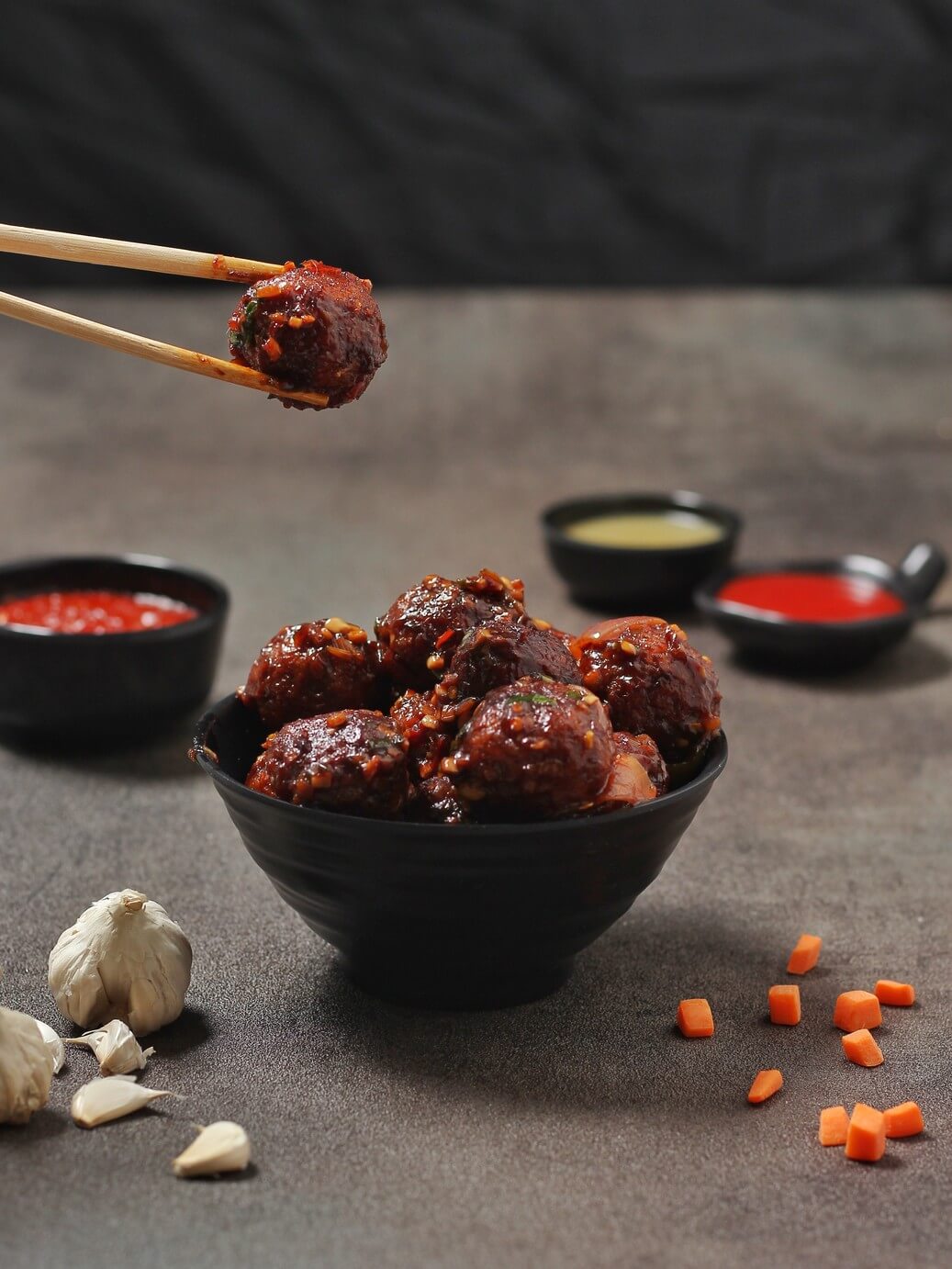 Siddhi Panchal is a food blogger at CookingwithSiddhi and food aficionado who loves to cook. Her cooking skills cover a range of Indian and international cuisines. Her aim is to enable other food enthusiasts explore their love for food by helping them cook delectable dishes from India and around the world.