Chinese Pakora's are crispy, spiced vegetable fritters. It has a great mix of green vegetables, spices, and sauces. When you eat the street bought Chinese fritters, don't they always look drool-worthy, due to their color and texture and taste.
So the street vendors add food color to bring in that fiery red hue. And if you are Chinese cuisine fan, you must be aware of the ingredient Ajinomoto, it is used in almost all Chinese preparation in India and abroad. However, the use of Ajinomoto is critiqued by many but some do consider it harmless and is called flavor enhancer.
But to cut the story short if you are not a fan of the famous Chinese salt well I have a recipe for amazing Chinese Fritter without the use of color or Ajinomoto! YASS.
You will be amazed to see how a veggie can lend a beautiful color to these fritters. It is healthy yet it's flavor is to die for!
If you feeling hungry well save that craving and get in the kitchen to make some authentic street style Chinese fritters.
Chinese Pakoda Recipe and Text Recipe Below
Ingredients
1 & 1/2 Cup Finely Chopped Cabbage
1 Cup Finely Chopped Spring Onion
1/2 Cup Grated Carrot
1/3 Cup Crushed Beetroot
1/2 Cup Cornflour
1/2 Cup All Purpose Flour
2-3 Crushed Green chili
1 Tbsp Finely Chopped or Paste of Ginger garlic
1 Tbsp Red Chili Sauce
1 Tsp Vinegar
2 Tbsp Soy Sauce
1 Tbsp Green Chili Sauce
Salt to Taste
Directions
In a larger mixing bowl, add finely chopped cabbage, grated carrots, chopped green onion, crushed beetroot, red chili sauce, green chilies, ginger garlic paste, green chili sauce, say sauce, vinegar, salt to taste and then mix all ingredients well.
Next add corn flour, all purpose flour, and mix until it forms a gooey batter. The flour will absorb all the moisture so you don't have to add water to it. If the batter is sticky add all purpose flour according to make the right consistency.
In a kadhai heat oil well to fry the fritters.
Now pour in uneven medium size balls of batter into the oil using your hand.
Fry Pakora on a medium flame and till golden brown from all sides.
Once ready take them out on a kitchen towel lined plate and serve.
The best companies for these hot Chinese fritters are handmade green chutney and ketchup. Do let me know how the experience was with the recipe.
Happy Cooking!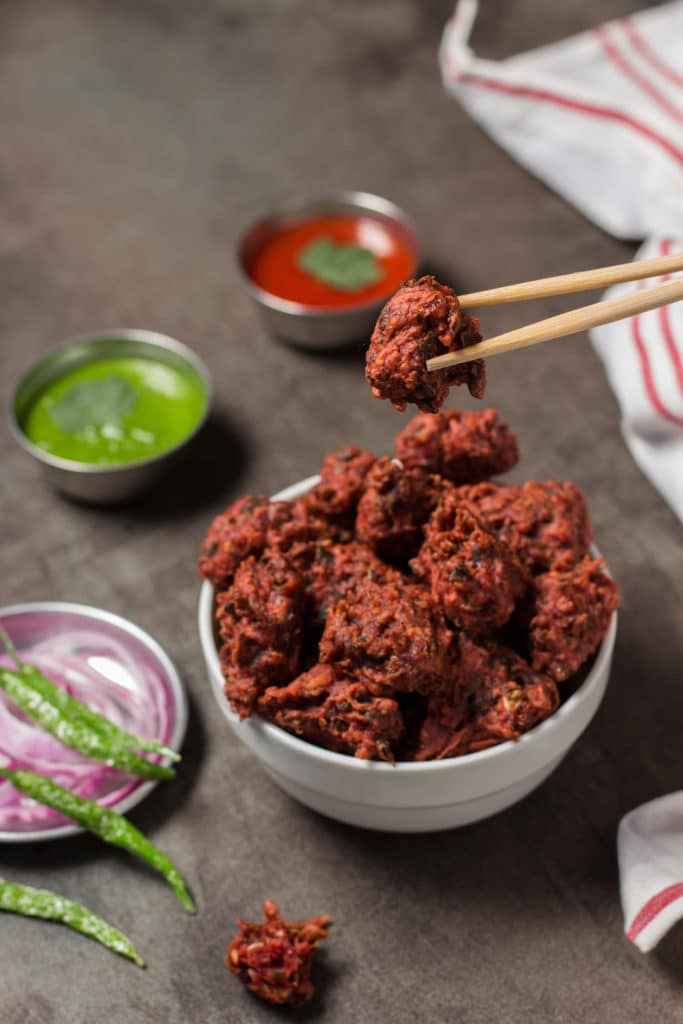 Siddhi Panchal is a food blogger at CookingwithSiddhi and food aficionado who loves to cook. Her cooking skills cover a range of Indian and international cuisines. Her aim is to enable other food enthusiasts explore their love for food by helping them cook delectable dishes from India and around the world.