Parathas have always been an excellent choice for breakfast or to pack for the tiffin/lunch box. They are also the most varied dish; you can stuff them with absolutely any veggies or dal and it can be different every time you make. Parathas are a complete meal in themselves.
Today's special recipe is from the heart of Rajasthan and it is called Moong dal Paratha. Now there are two ways of making the paratha, one is when you mix all ingredients in the flour and ready the dough and the other way is by preparing a stuffing of moong dal separately and then using it as stuffing for the paratha.
Stuffed Moong Dal Paratha is a delicious paratha stuffed with yellow moong dal, simple dry spices, and an interesting twist is the pickle masala.
Roasted well in oil or ghee as per your choice, it tastes absolutely divine. You can plan a hole brunch around this star of a dish. It can be packed for lunch in the tiffin box or served for breakfast, lunch or even dinner.
Moong Dal Paratha Recipe and Text Recipe Below
Ingredients
2 Cup Wheat flour
1 Cup Moong dal – Soaked for 2 to 3 hours
Oil as needed
1 to 2 Tbsp Pickle masala
1/2 Tsp Cumin seeds
1/4 Tsp Turmeric powder
1/2 Tsp Garam masala
1/2 Tbsp Red chili powder
1 Tsp Coriander powder
2 Tsp Dry fenugreek leaves
1/2 Tbsp Chaat masala
1/4 Tsp Asafoetida
Salt to taste
Directions
In a mixing bowl add flour, sprinkle salt, 1 tbsp oil and now mix these ingredients first.
Now add water accordingly and knead it into a soft dough. Set it aside for 10-15 minutes.
In a mixing jar coarsely crush a cup of moong dal once at a time. Take it out in a bowl.
Heat a non-stick pan and add 4 tbsp oil. Once the oil is hot add cumin seeds and once they splutter add asafetida, pickle masala and finally the coarsely crushed moong dal. Mix well and sprinkle salt to taste.
On a medium flame cook for 4-5 minutes, stirring occasionally. Add the pickle masala and mix it again.
Next, add Dhaniya powder, chat masala, garam masala, red chili powder, add Kasturi methi after crushing between your palms, mix well and the stuffing is ready. Let it cool.
Next, add 1 tbsp oil on the dough and knead for a minute.
Let bring all thing together, you need to have the dough, stuffing, flour in a bowl, and chakla and rolling pin.
Take a handful of dough and roll it into your palms flatten it and dust it in the flour and roll with help of fingers into a 3-inch diameter.
Place about 2 tablespoons of moong dal stuffing in the center, gather the edge and seal it. Carefully roll out the paratha into a circle.
Heat a skillet, grease it with oil and cook over medium heat and cook the moong dal paratha in flip sides and apply oil, until cooked through, and has golden brown spots on both sides.
Serve this Stuffed Moong Dal Paratha with raita and or pickle for a simple and wholesome meal.
Take it out on a paper napkin and bite into it. It is a perfect dish for a Sunday brunch with the whole family. Do try the recipe and let me know your feedback.
Happy cooking!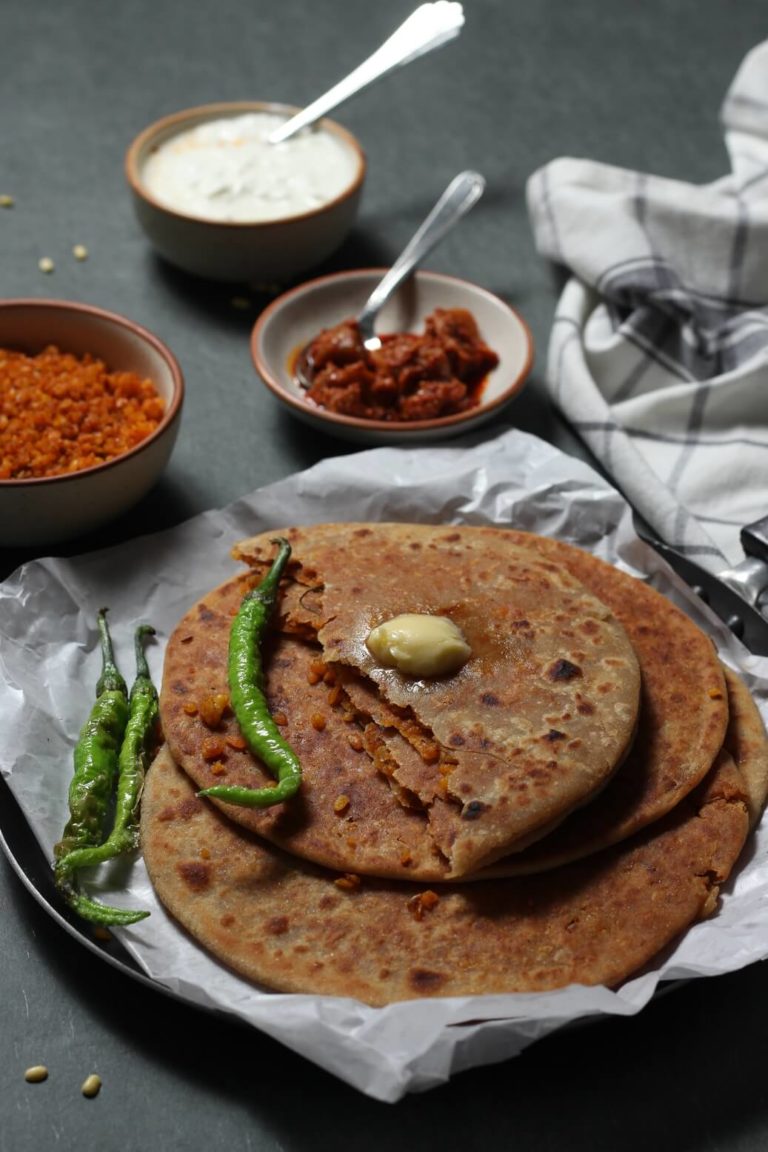 Siddhi Panchal is a food blogger at CookingwithSiddhi and food aficionado who loves to cook. Her cooking skills cover a range of Indian and international cuisines. Her aim is to enable other food enthusiasts explore their love for food by helping them cook delectable dishes from India and around the world.