Who said it's impossible not to gain that holiday weight? This Diwali at Cooking with Siddhi, I am all about health with taste.
This guilt-free and power pack protein bar makes a perfect snack for your hunger pangs between meals. Also, if you are trying to lose some weight, this recipe is our perfect companion as it has no sugar and whole lot of goodness of nuts.
If your Diwali is also 'healthwali' like mine you can also try Khajur Barfi and Dry fruit milkshake for your friends and family.
Healthy Protein Bar Recipe and Text Recipe Below
Ingredients
1 & 1/2 Cup Organic Jaggery powder
1 Cup Oats
1/3 Cup Roughly Chopped Pistachio
1/3 Cup Roughly Chopped Walnuts
1/3 Cup Roughly Chopped Almonds
1/3 Cup Roughly Chopped Cashew
2 Tbsp Sunflower seeds
2 Tbsp Flax seeds
1 Tbsp Sesame seeds
1/2 Tbsp Lemon Juice
2 Tbsp Honey
A Pinch of salt
Directions
Heat a non-stick pan, once hot add oats, almonds, cashew, walnuts, pistachio, sunflower seeds, flax seeds, and sesame seeds.
On low-medium heat roast oats, dry fruits, and seeds, stirring continuously for 4-5 minutes. Transfer them to a bowl
Reheat the same pan and meanwhile grease a pastry tray with oil or ghee.
Once the pan is hot add powdered jaggery and honey. On medium heat cook stirring continuously until it melts.
After the jaggery starts to set in, on a low flame, add lemon juice.
After cooking for a minute add the roasted oats, dry fruits, and seed mixture.
Mixing and binding them together cook for another 2 minutes.
Pour the mixture into the greased pastry tray and spread it evenly.
Flatten the top with the bottom of a small steel bowl and cut it into the desired shape, I am going with that of a rectangular (energy) bar.
Serve them and you can also gift them!
I hope you enjoyed the recipe as much as I enjoyed making it. These are power packed along with being extremely crunchy and delicious. It will give you energy throughout your and also meet your sweet-tooth cravings!
Happy Cooking!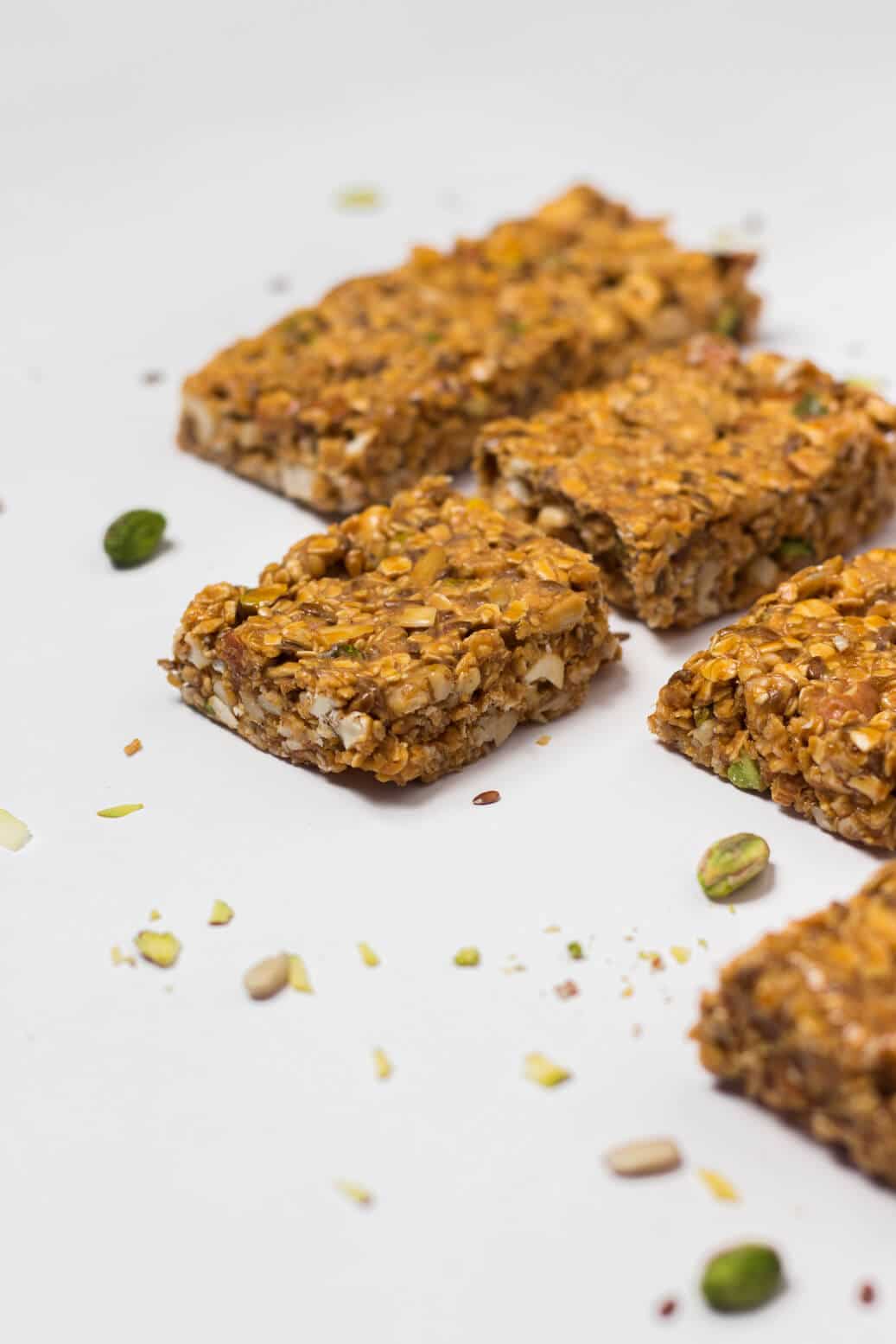 Siddhi Panchal is a food blogger at CookingwithSiddhi and food aficionado who loves to cook. Her cooking skills cover a range of Indian and international cuisines. Her aim is to enable other food enthusiasts explore their love for food by helping them cook delectable dishes from India and around the world.