As soon as it is the winter season, we cannot wait to grab hold of our favorite winter vegetable – carrots. In India, there is ample carrot produce, and we can't get lucky than that. The desi gajar or the red variety of carrots is produced regionally and is a store of antioxidant and nutrients. Carrots are the healthiest additions you can make to your winter diet. Loaded with beta carotene, lycopene, and lutein content that help boost eye health. They also contain silicon, which may do miracles for your skin and hair health.
Carrot Soup is great for digestive health. Good digestion is vital for metabolism, which further promotes weight loss. Carrots are also very low in calories a hundred grams of carrots contain only 41 calories. WOW!
The best bit is that you can mix carrot soup with any other veggie you want.
Another winter favorite is Spinach soup which is extremely healthy and then everyone's favorite Sweet Corn Soup. Both of them are a must try soup recipes.
 Carrot Soup Recipe and Text Recipe Below
Ingredients
2 Medium Size Roughly Chopped Carrot
2 Medium Size Roughly Chopped Tomatoes
1 Medium Size Roughly Chopped Onion
1 Medium Size Roughly Chopped Onion
1 tbsp Butter
3 Garlic Cloves
1/2 tsp Black pepper powder
Salt to taste
Directions
Heat a pressure cooker and add oil.
Now add garlic cloves, onions, ½ tsp salt. Sauté until onion turns golden.
Add carrots and tomatoes, sauté for 1 minute.
Next add 2 cups of water, add salt accordingly.
On full flame boil the contents.
Close the lid of the pressure cooker and cook until 4 whistles.
Let it cool down. At this stage you can use blender to turn it into a fine paste or you can use mixer.
If using a blender, use directly in the pressure cooker and blend until it gets a smooth texture.
Heat a pan and add butter cube.
Once the butter melts add black pepper powder and sauté for 15-20 seconds.
Add the smooth paste into the tempering.
Cook until it boils.
Take it out in a soup bowl and serve!
Garnish it with coriander leaves and you perfect winter starter is ready. Nothing can go wrong with this bowl of soup, be it kids or an adult everyone is going to loves this wholesome soup. DO let me know your experience with the recipe and share in the comment section below.
Happy Cooking!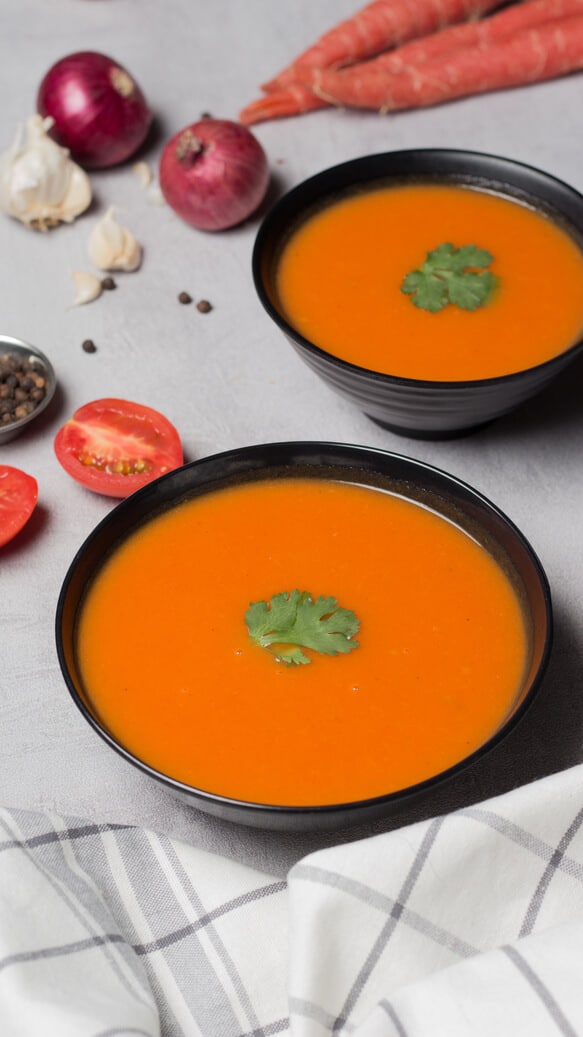 Siddhi Panchal is a food blogger at CookingwithSiddhi and food aficionado who loves to cook. Her cooking skills cover a range of Indian and international cuisines. Her aim is to enable other food enthusiasts explore their love for food by helping them cook delectable dishes from India and around the world.