And we all know how Khichdi comes in handy. It is a go-to meal for busy weeknights or a dull Sunday or on a day when you do not feel like cooking anything elaborate yet you do make sure that it is a healthy meal. The best way to serve it is with roasted papad and spicy pickle, in winter you can pair it curd based hot soup and in winter Chaas works best. The complete spread makes for a great comforting meal.
Here is just the recipe for very basic Gujarat Khichdi, which will brighten your boring day!
Let's get started!
Plain Gujarati Khichdi Recipe and Text Recipe Below
Ingredients
1/2 Cup Rice
1/2 Cup Split green gram(Green Moong dal)
1 Tbsp Clarified Butter
3-4 Clove & a piece of cinnamon stick
1/4 Tsp Asafoetida
1/4 Tsp Turmeric powder
1 Tsp Salt to taste
Directions
Mix the rice and split green gram and rinse them thoroughly in water. Later keep them soaked in water for half an hour.
After 30 minutes strain the rice and dal.
Heat pressure cooker, add ghee and let it melt.
On low flame add cinnamon stick, cloves, after a few seconds asafetida and then add 3 1/2 cups of water.
Next, add salt, stir well and let it boil.
Now pour the strained rice-dal mixture.
On full flame let it boil and cook well.
Sprinkle turmeric powder and stir well. add one tsp curd to change the color.
After a minute of cooking lock the pressure cooker with its lid.
On full flame let it cook until it gives off 5 whistles.
Lower the flame for the 6th whistle. switch off the flame and let the cooker cool off.
Open the lid and mix once again and it is ready to be served.
Serve it in a plate and pour a dollop of ghee and place alongside it a piping hot bowl of kadhi and pickle or even papad.
It is a wholesome and comfort meal in itself. Everyone in your family will enjoy it thoroughly so do make it sure to try it. Don't forget to share your feedback.
Happy Cooking!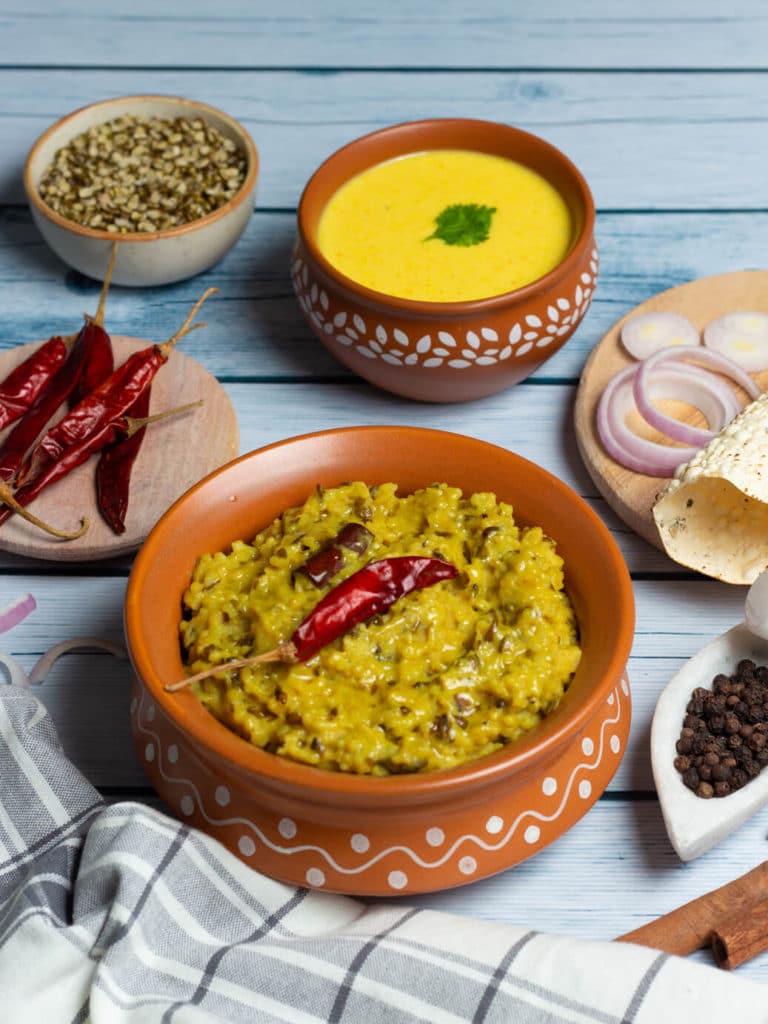 Siddhi Panchal is a food blogger at CookingwithSiddhi and food aficionado who loves to cook. Her cooking skills cover a range of Indian and international cuisines. Her aim is to enable other food enthusiasts explore their love for food by helping them cook delectable dishes from India and around the world.