Meet Butter Murukku, the famous tea-time snack from Tamil Nadu. It is also a traditional Indian snack and is made during festivals, especially for Krishna Jayanti. But we all know that we don't need reasons to make snack bite, we just need to be hungry and driven by passion.
It is made from rice flour (and also urad dal flour) and seasoned with salt as well as some aromatic spices. The snack is golden-brown in hue and has a great crunchy texture.
Did you know the term Murukku is actually derived from the Tamil language and it roughly means "to twist"?
Now all you need is your favourite cup of steaming hot chai, gather friends and family, and enjoy this amazing South Indian delicacy.
Since they are deep-fried they can be stored in an air-tight container.
Let's get started with the recipe.
Butter Murukku Bytes and Text Recipe Below
Ingredients
1 Cup Rice Flour
3/4 Cup Roasted Chickpea Flour
1/3 Cup Butter
1 Tsp. Cumin seeds
1/4 Tsp. Asafoetida
1 Tbsp. Sesame seed
Salt to taste
Directions
Take a pan and heat little less than 1 cup of water.
Add Cumin seeds, Asafoetida Sesame seeds and salt to taste in lukewarm water.
When water comes to boil, add butter and stir it well to melt the butter in the concoction. Turn off the flame.
In a big bowl, take rice flour and roasted chickpea flour and give it a dry whisk. Add the butter and spices mixed water from the pan to form soft and smooth dough. Also, add a teaspoon of oil to make the dough smoother.
Rest the dough for 5-10 minutes.
Grease the Chakli or Murukku jaali and also the maker.
Take half of the dough and form it into a roll to put it in maker. Press the dough so that it fits the machine size and close the lid.
Simultaneously, heat oil in a broad pan. To check if it is ready or not by adding a small portion of dough. If oil starts boiling and dough comes afloat it is ready.
Now, use the Chakli machine to press out Murukku in oil on a medium flame. Fry until they are golden brown.
Take them out on a kitchen towel to soak the excess oil and break them into smaller pieces.
You can also sprinkle some chat masala to enhance its flavours. You can also add spices and make masala Murukku recipe for a spicier version of butter Chakli/chakri.
Do try this recipe and share the pictures and your experiences with me.
Happy Cooking!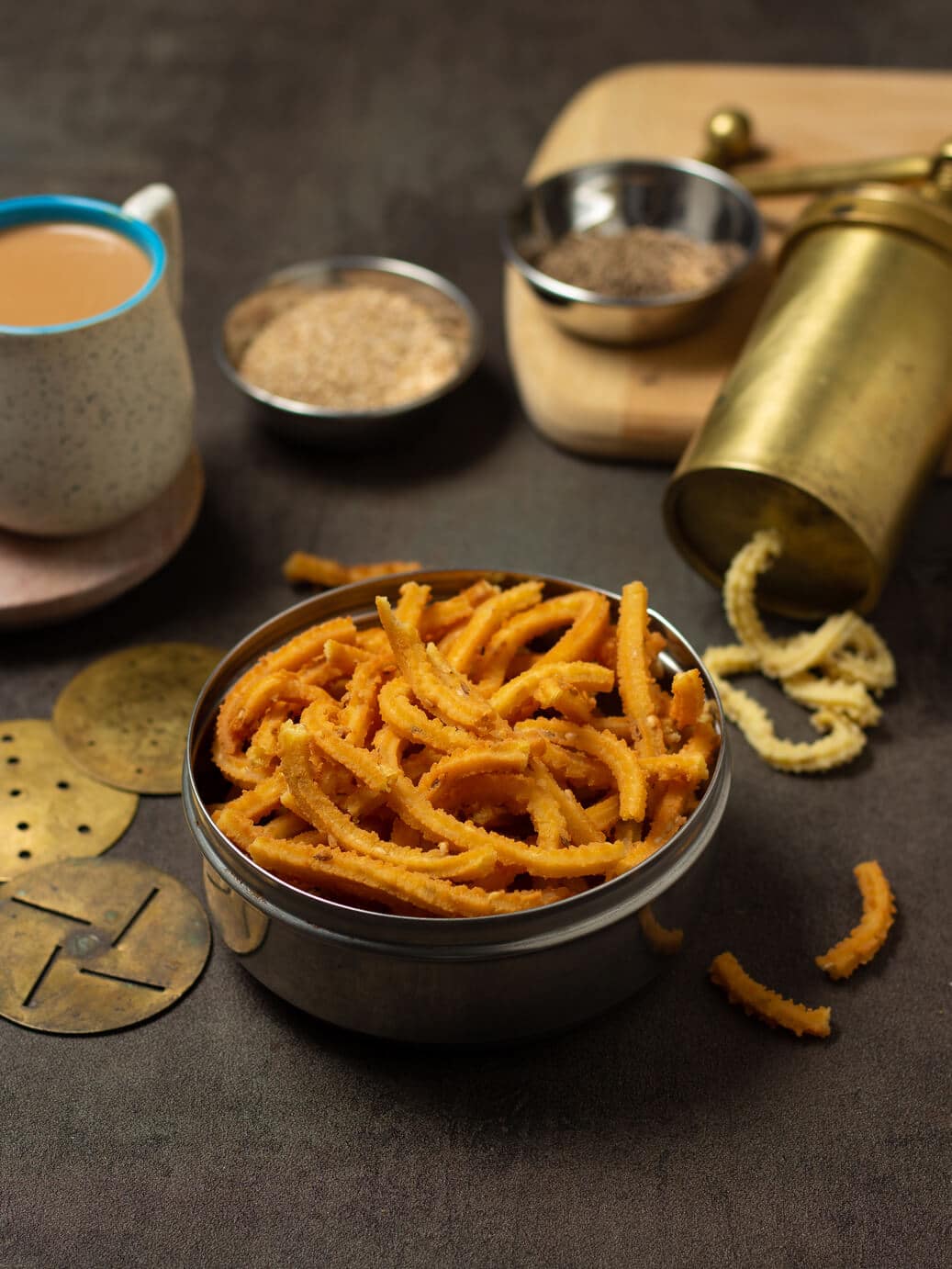 Siddhi Panchal is a food blogger at CookingwithSiddhi and food aficionado who loves to cook. Her cooking skills cover a range of Indian and international cuisines. Her aim is to enable other food enthusiasts explore their love for food by helping them cook delectable dishes from India and around the world.